'DEXTER' REVIEW: Season Four, Episode Eleven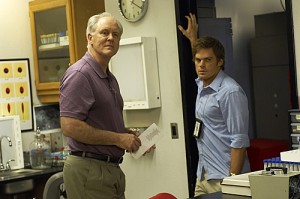 Review of "Hello, Dexter Morgan" (04:11)
SPOILER ALERT!
We are down to the nitty-gritty with Dexter's fourth season. Christine (Courtney Ford) is on the hot seat with Sgt. Angel Batista (David Zayas) and the rest of the detectives at the Miami Homicide Division. We already know that she killed Frank Lundy (Keith Carradine) and shot Debra Morgan (Jennifer Carpenter), but now the police want to find some evidence. Trinity's daughter is shaking in her journalist boots. Quinn, her on-again-off-again boy toy, is still not sure about Christine, but he senses that something is awry.
While the police are hot on the trail of Christine, Trinity is hot on the trail of Mr. Kyle Butler, aka Dexter Morgan (Michael C. Hall). Now it's obvious why Dexter doesn't want Trinity caught by the police: With the blood specialist's face known to Arthur Mitchell's family, he would be implicated in a heartbeat.
After Trinity does some homework, he begins looking around the Miami area for Kyle Butlers. When he finds one guy that he thinks is the right one, the results are deadly. Trinity kills the wrong Kyle Butler, and yet another innocent victim drops dead because Dexter refuses to clue the authorities in on Arthur's whereabouts.
Realizing that someone needs to take the rap for Trinity's murderous spree, Dexter chooses a known criminal named Stan Beaufry to take the hit. In quick succession, Dexter kills Stan, plants some evidence and calls in an anonymous tip. It can't be that easy, can it?
Christine continues to unravel. The police are breathing down her neck and her father won't answer her calls. There's only one choice left for her: She takes a gun and shoots herself in front of Debra, who can't seem to get away from the carnage.
While loose ends are tied up, Batista and Lt. Maria LaGuerta (Lauren Velez) face potential legal troubles for continuing on with their relationship despite signing an affidavit that they were merely professional colleagues. To circumvent the law, the two decide to do the unlikely: With Dexter as their witness, Batista and LaGuerta get married. In other romantic news, Dexter punches his next-door neighbor, Elliot, for kissing Rita (Julie Benz) at Thanksgiving.
The police find Beaudry and make him for the top Trinity suspect, while Arthur trails Dexter all the way back to the precinct. The episode ends with Arthur introducing himself to the blood specialist: "Hello, Dexter Morgan."
I've been fairly critical of Dexter's fourth season. The show's writers were unnecessarily distracted by side plot points and exposed Dexter to a barrage of situations that became increasingly far-fetched. That said, "Hello, Dexter Morgan" is a near-perfect episode. Everything seems to work nicely and many of the storylines reach their natural conclusion. I couldn't have thought of a sadder, and more appropriate, ending to the Christine character. Also, having Trinity find Dexter on the blood specialist's home turf is scary and exciting.
Episode 11 ends up being exactly what it should have been: a gripping pre-cursor for the season four finale.
By John Soltes / Publisher / John@HollywoodSoapbox.com
Dexter

Showtime

Starring Michael C. Hall, Jennifer Carpenter, John Lithgow, C.S. Lee, Desmond Harrington, Lauren Vélez, Julie Benz and David Zayas


Rating:


Click here to read a review of Dexter: Season One.

Click here to read a review of Dexter: Season Two.

Click here to read a review of Dexter: Season Three.

Click here to purchase Dexter: Season Four on DVD.