'Children of Paradise' is an epic story about artists in love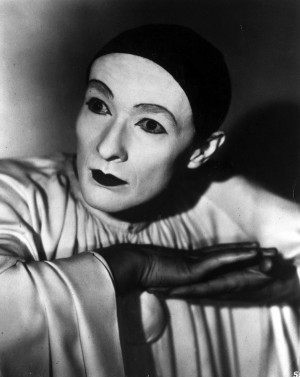 Marcel Carné's Children of Paradise is still an enthralling film, featuring heartfelt performances, an effective plot and lush imagery. The 1945 classic, which is currently playing at New York City's Film Forum, somehow continues to impress decades after its initial release.
Much of the movie's success can be found in Carné's brilliant staging of the three-hour story. He brings to life 19th-century Paris like an artist working on an ambitious painting. He shows the people of the street, walking, talking and enjoying life. He turns a sentimental eye on the actors and mimes who populate the theaters of the French capital. He, quite convincingly, falls in love with this classic tale of a beautiful woman (Arletty) with too many suitors.
Arletty's Garance is an entrancing, statuesque woman. She has a face worthy of study, and a smile that will instantly attract the attention of ogling men. More importantly, she's an untethered woman, shifting in and out of the street life in Paris. As a courtesan, she recognizes her ability to charm and leverages it to full effect. Her inherent intoxication falls upon the doting eyes of Baptiste (Jean-Louis Barrault), a local mime whose celebrity status heightens with each performance. His whitened face and sad, sad eyes instantly make him a charity case; as audience members, playing adjudicator to Garance's romances, we want Baptiste to ultimately win her heart.
But there are others who get in the way, including Frédérick Lemaître (Pierre Brasseur), a local actor, and Pierre-François Lacenaire (Marcel Herrand), a local criminal with the curliest hair ever to hit the silver screen.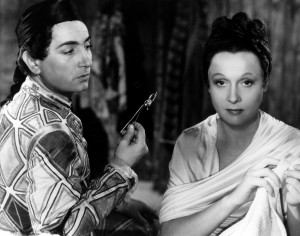 The back-and-forth between Garance and her admirers provides Children of Paradise much of its drama, but it's the setting and look of the film that leave the most lasting impression. Whether it's witnessing one of the pantomime performances by Baptiste or parading through the streets for Carnival, Carné and his production designer, Alexandre Trauner, recreate a majestic-looking Paris that is beautiful to behold. There's one scene when Baptiste first tells Garance how he feels. Just look at the background of the twinkling lights in the capital city; taken together, with Garance's come-hither look and Baptiste's expressive face, Children of Paradise feels like a painting come alive.
The film, which has been recently restored by Pathé, never drags through its two parts, spread out over three hours. The movie takes breaks from the overall love story to provide us with some entertainment, whether in the form of a theatrical play or pantomime performance. There are more scenes in the theater than any other setting, which seems entirely appropriate. Children of Paradise is a theatrical creation, an expansive tale of artists in love with their craft and each other.
The acting is top-notch. One can watch the movie in 2012 and begin to notice the slow progression away from the overly theatrical acting styles of the early 20th century and the more method acting that became famous later on. It's probably because of the filmed theatrical performances that this progression is so obvious. Arletty and Barrault are overly dramatic and emotional while on stage in front of the audience, but when they're together in a bedroom setting, they are much more tender and real. They are performers with ambitious lives out of the spotlight.
The movie is quite daring for its time. It came as a bit of a shock when Garance disrobed in front of Barrault, brushing aside the nudity with a tsk-tsk. It's a small point, but one that speaks to the freeing nature of this bonafide classic. Sometimes there's no taming love. Carné, who has created one of the most memorable films in history, understands this edict and perfectly captures the heart of these wayward souls.
By John Soltes / Publisher / John@HollywoodSoapbox.com
Children of Paradise

In French, with English subtitles

Directed by Marcel Carné

Written by Jacques Prévert

Starring Arletty, Jean-Louis Barrault, Pierre Brasseur and Marcel Herrand

Running time: 163 minutes, with intermission

Rating: