INTERVIEW: 'Red Roses' celebrates songbook of Jerry Garcia, Robert Hunter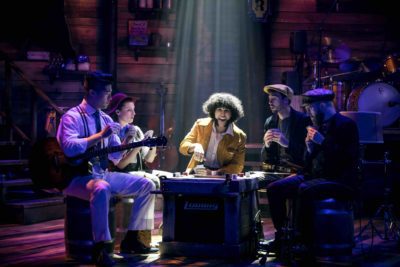 For fans of the Grateful Dead, the new musical Red Roses, Green Gold is must-see theater in New York City. Featuring the iconic songs written by Jerry Garcia and Robert Hunter, the show extends the cultural impact of the iconic band's back catalog.
For non-Deadheads, the musical offers up a slice of Americana with a talented group of singer-musicians, and at the center of the show is Natalie Storrs, who plays Melinda Jones. Joining her on stage at the Minetta Lane Theatre are seven other performers, all of whom tell the story of Jackson Jones and his family of swindlers.
Storrs became attached to the show in the most roundabout way.
"Well, funny enough, one of my side jobs — because we actors have lots of things we do — is that I work with Stephanie Klapper Casting as a reader," Storrs said in a recent phone interview. "So she has me come in and be an audition reader for a lot of shows, and she had me come in and be the reader for this audition, which I just ended up really jiving with the creative team and getting along and, of course, doing my job as a reader. But as they were hearing me read the sides, they said, 'Hey, do you play any instruments?' And it kind of all fell into place from there."
When Storrs signed on the dotted line for the musical, she wasn't a diehard fan of the Grateful Dead. She knew a couple of the more popular songs, but the influence wasn't there. Now that she lives and breathes the catalog of Garcia and Hunter, she counts herself a fan.
"I appreciate pretty much everything about this music at this point," she said. "I think it's really brilliant. The lyrics are gorgeous. Robert Hunter is a wonderful lyricist. The great thing about this music is that most of the catalog doesn't follow classic song structure. It's very intelligent and very artistically creative in the fact that the keys are changing. The songs constantly do unexpected things, so it's both the melodies and the music and the lyrics that I love. The complicated melodies made it difficult to memorize because we're all playing music as well as singing it, but now that it's down, I really, really love that aspect of it."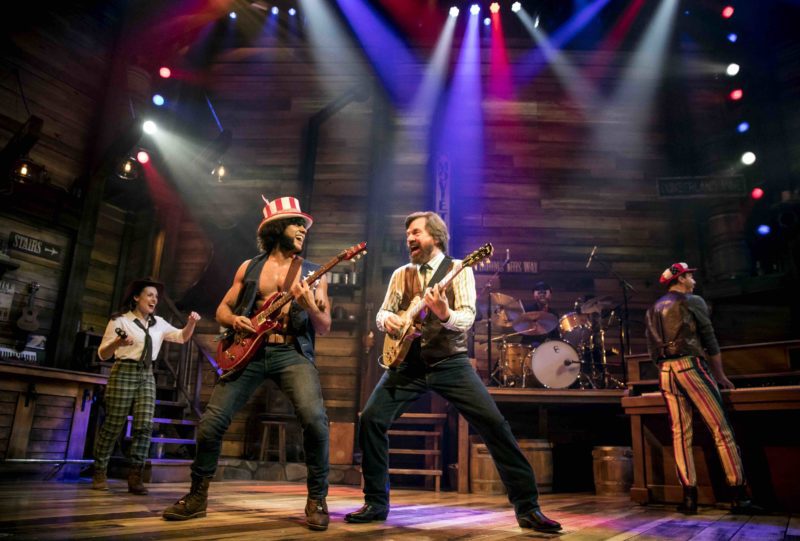 Because the cast sings, dances, acts and plays instruments, they are quite tired after a performance at the Minetta Lane. Storrs called the experience of acting in Red Roses, Green Gold "absolutely exhausting," but in a good way.
"We've all kind of found that it's like you're using so many more areas of your brain, I think, than being in a normal musical, and it really is taxing," she said. "You're kind of zonked at the end, but two-show days are particularly interesting."
The eight-person cast, in collaboration with director and choreographer Rachel Klein, developed the music for the show together. They were helped by Michael Norman Mann (book) and Jeff Chimenti (musical supervision and arrangements), who is part of Dead & Company, the current Grateful Dead lineup.
"We really started to work on the arrangements of the songs as a band," Storrs said. "We had chord charts basically, but we listened to the originals. And then we started playing the songs and started coming up with our own vibe and groove. We had Jeff Chimenti in there with us from Dead & Company, so that was an invaluable resource because he really … so lives in this music that he knows what's important to bring out in it and the quality and the vibe as well as blending it with a bit of the musical theater world. So it's this really beautiful blend of staying true to the original song, but also infusing it with a bit more of a potentially bluegrass quality or a bit more of a storytelling quality, so, yeah, working as an ensemble was really phenomenal because we truly developed our sound as a band would."
Storrs and the company don't simply play their respective instruments on stage. They actually trade instruments, and that means they each have to be well-versed on how to bring this music to life.
"Everyone is a multi-instrumentalist," she said. "So you have one single person that's switching. He's starting on upright bass, and then goes and plays the piano, and then plays the accordion, and then goes off and plays the guitar. Everyone is switching instruments throughout the show, which makes it really unique. In a lot of actor-musician shows, people play one instrument throughout the show, but this one is unique in that we're all switching off."
Among the crowds that have descended upon the Minetta Lane, there are many Deadheads. Storrs believes they are some of the best audience members of Red Roses, Green Gold, which recently extended its engagement into March.
"We have had a lot of fans of the music there, and they are, in my opinion, the most enthusiastic supporters of the show," she said. "They've just been so happy and so ecstatic. A lot of feedback after the shows just from people who are Dead fans [has been], 'Thank you so much. You just made me so happy, and we're going to tell everybody. We want to come back.'"
By John Soltes / Publisher / John@HollywoodSoapbox.com
Red Roses, Green Gold is currently playing the Minetta Lane Theatre in New York City. Click here for more information and tickets.