INTERVIEW: 'Savage Kingdom' returns with wild, wild drama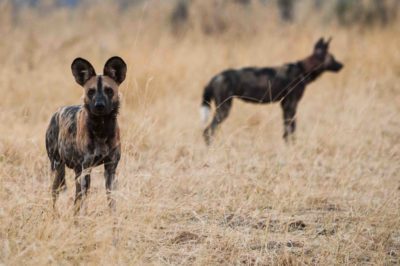 Brad Bestelink may have one of the coolest jobs on planet Earth. As a wildlife filmmaker, Bestelink heads into the bush looking for interesting dramas that play out amongst the members of the animal kingdom. His best cinematic efforts have been compiled in the new four-part miniseries Savage Kingdom: Uprising, premiering Friday, Nov. 24 at 9 p.m. on Nat Geo Wild.
The series, which follows last year's successful first season, looks closer at animal groups in remote Botswana vying to survive and endure environmental challenges. For some viewers, the narrative will feel like Game of Thrones, and to confirm that metaphor, Nat Geo Wild has employed the help of Charles Dance as narrator of the four shows.
There's a lion king trying to hold on to his bloody crown. A leopard prince must rely on the hard-learned lessons he received from his mother. A pack of wild dogs hunt in the high grass, swiveling their adorable ears to hear danger on the periphery. Nat Geo Wild promises that "no one is safe" in Savage Kingdom: Uprising.
Recently, Hollywood Soapbox exchanged emails with Bestelink about the new miniseries. Questions and answers have been slightly edited for style.
How difficult was it to capture this footage for SavageKingdom?
It is always difficult to capture the stories of these amazing predators, and it requires an incredible amount of time. Our crew invested thousands of hours in each character. We put in the time, and it paid off … we got the results. Because we were so familiar with these animals, we were able to anticipate their behaviors and movements, so we were able to get ahead of them and film them in some really rare and incredible situations.
However, nature is unpredictable, so our crews had to adapt when things didn't go according to plan. Because we were out there filming for over a year, we became very fond of these characters and were invested in their lives on an emotional level … which can be difficult when something tragic happens to them, obviously, because we have to see how it plays out and never intervene with nature. As you'll see in this season, Saba the leopard gets injured at one point, and we didn't know what would happen to her. This was a really difficult time for all of us because Saba was a favorite of ours.
What can audiences expect from this installment of the series?
Savage Kingdom: Uprising is more personal and intimate than the first season. Having already established the characters and politics of the Savage Kingdom in season one, we were able to spend more time developing their individual personalities to better understand their stories. Like season one, Uprising is brutal, raw and honest, and once again we are not protecting the viewer from the harsh realities of the wild. While we continue to follow our main protagonists as their lives unfold in astonishing ways, we also introduce new, surprising characters that you'll have to tune in to see.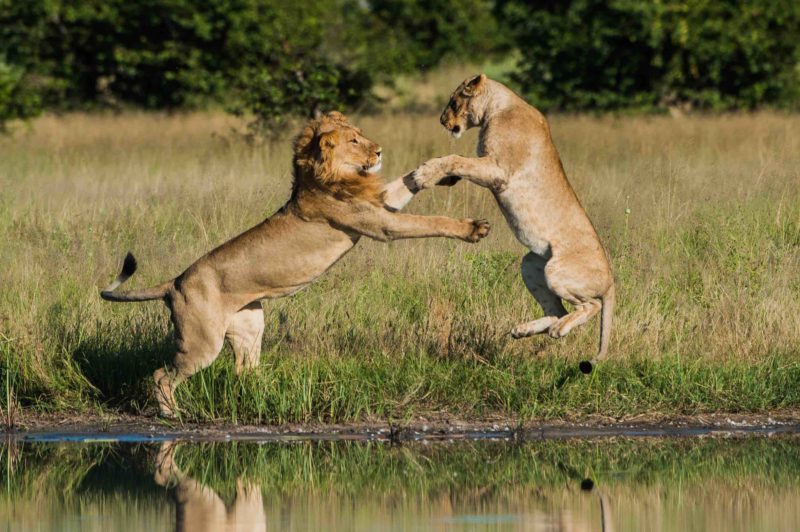 Did the themes for each episode immediately become evident? How do you develop the narratives into four episodes?
Season two is called Uprising, and this is in reference to the overarching theme, which continues through all the episodes. The struggle for power between Sekakama and his surviving sons is a prominent storyline this season. However, season two is different than season one because we are now portraying our characters' stories chronologically, rather than dedicating each episode to a different character. The themes for each episode played out naturally as the drama in Savute unfolded. This is really how life for these animals is in the wild.
I've been to the Okavango Delta before. How is the Botswana wilderness in 2017?
Unlike most African countries, Botswana's government has a firm grip on the value of ecotourism and its wildlife as a natural, renewable resource. Botswana remains the shining light as the custodian of the great African animals. The government of Botswana is committed to upholding its anti-hunting laws and continues to dedicate people and resources to the conservation of the country's wildlife. From anti-poaching efforts to the reintroduction of critically endangered animals, the Botswana government is heavily involved in wildlife conservation and the protection of its wild spaces. Tourism is vital to the growth of the nation's economy and success of its people. As for Botswana's wilderness today? I'd say it's as vibrant as it was when you last visited.
However, our animals face many challenges and pressures from neighboring countries and changing environmental conditions. We have a lot of work to do to maintain this pristine wilderness, so please know that when you visit Botswana, your tourism dollars are directly and positively contributing toward uplifting its people and the conservation of the animals. It is a shame that many countries have to reach rock bottom before they try to turn their iconic animals into a sustainable resource, and we wish that they would start adopting the same approach to ecotourism as Botswana before it's too late for them.
What does Charles Dance's narration add to the series?
Charles' voice adds so much nuance and drama to the show. I think it is his experience with English theater that enables him to express the feeling in these characters so skillfully. His voice is certainly chilling, and he is able to easily add a menacing tone to the series — making it even more savage. Wildlife portrayed as scripted drama needs a man of his talents to execute it convincingly. He is a great asset to the series, and there is no better voice suited to portray the honest raw brutality of the Savage Kingdom. 
By John Soltes / Publisher / John@HollywoodSoapbox.com
Savage Kingdom: Uprising premieres Friday, Nov. 24 at 9 p.m. on Nat Geo Wild. Click here for more information. Click here for previous coverage of Savage Kingdom.