INTERVIEW: New musical 'The Mad Ones' details young woman at a crossroads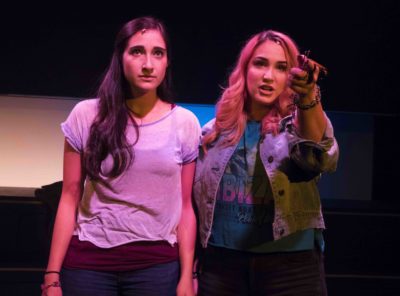 The Mad Ones, currently playing at 59E59 Theaters in Midtown Manhattan, takes a personal look at a young woman's life-changing decision to either follow in her mother's footsteps or chart a path on her own terms. The musical, which plays through Dec. 17, is the brainchild of Kait Kerrigan and Brian Lowdermilk, a successful writing team that are responsible for the book, music and lyrics.
The cast at 59E59 includes a number of theater mainstays, including Krystina Alabado as the main character, Emma Hunton, Leah Hocking and Jay Armstrong Johnson (filling in through Dec. 3 for Ben Fankhauser).
The show is directed by Stephen Brackett, of Buyer & Seller fame. Recently, Hollywood Soapbox exchanged emails with Brackett about the production, which is staged by the Prospect Theater Company. Questions and answers have been slightly edited for style.
What were some of the unique challenges of directing The Mad Ones?
There's a tricky balance to the central conceit of the show; it's a piece about trying to move forward in the wake of great tragedy told through a coming-of-age story. So there are aspects of the storytelling that are very much about grief, but then there are more lighthearted sequences that indulge in fantasy and in the behavioral comedy of what it's like to be awkward with your adolescence. Finding the harmony with these disparate modes in the show has been a challenge, but each inform the other in a wonderful way.
What first attracted you to the play?
I first got really excited about a conversation I had with Kait and Brian about the direction in which they wanted to take the show. Amidst conversations about the character Sam's trajectory, Kait stated that she was curious to push more into the ways in which having a female protagonist was essential to this story, and how it was told through her relationship to her mother's expectations and in the way it informed some of the uncertainty in her relationship with her boyfriend. And in that moment the whole piece snapped into focus for me.
I've been so excited about the work Kait and Brian have been doing to solidify that thematic arc. I think it's really exciting and is elevating the experience of the show. Audiences familiar with Kait and Brian's work will come to the show and recognize some of the music, but I think some of the most exciting moments are new to this version of the show.
What do you hope the audience takes away from the piece?
There's a universality to this piece that I think is palpable. Everyone has come across a moment in their life where they stop and ponder big what ifs; a friend of mine constantly talks about stopping his successful career to become a cheese farmer in Vermont.
How do we live our best life? How do we give access to the voices inside of us that are pulling into a scary and unknown future? How do we access the bravery to take steps into that unknown? [It's] the most vulnerable thing to consider a different life than the one you are currently living, and although The Mad Ones is a story about a girl sitting in a car deciding if she's going to college, I hope that the audience sees these bigger conversations reflected and is able to relate and consider their own individual paths and see them reflected on the stage.
How involved in the rehearsal process have Kait Kerrigan and Brian Lowdermilk been?
Kait and Brian have been incredibly involved throughout rehearsals process and tech and previews. It has been invaluable having them by my side. At every turn they are intelligent, curious, and eccentric. The collaboration has been tight and prosperous. I think we've all been able to stretch each other's perception and understanding of the play.
What's it like working at 59E59 Theaters?
Its been lovely to work at 59E59 Theaters. The space is really welcoming, and the staff have been incredibly kind to us. We're very happy to be premiering this show with 59E59.
By John Soltes / Publisher / John@HollywoodSoapbox.com
The Mad Ones is currently playing 59E59 Theaters in Midtown Manhattan. Click here for more information and tickets.