INTERVIEW: Gardiner Comfort details his life with Tourette Syndrome in new play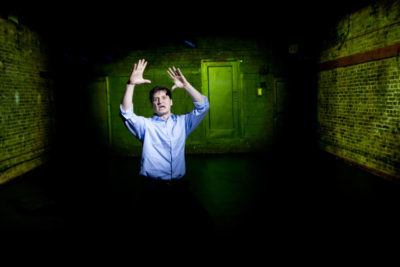 The Elephant in Every Room I Enter, currently running at the New York Theatre Workshop in Downtown Manhattan, details the experiences of actor Gardiner Comfort, who has Tourette Syndrome. The narrative of the piece, which is directed by Kel Haney, focuses on Comfort's visit to the Tourette Association of America National Conference in Washington, D.C., a few years ago. The opportunity to attend the conference afforded Comfort the chance to connect with others who have Tourette's and learn some profound lessons about the tic disorder.
The play is presented as part of New York Theatre Workshop's "Next Door" initiative, which provides space and resources to artists who produce their own work. It is Comfort's hope that after the NYTW engagement, there will be enough interest for a commercial off-Broadway run. Right now, audiences have until Saturday, Nov. 25 to catch the show.
Recently, Hollywood Soapbox spoke to Comfort about his theatrical creation. Here's what he had to say:
On the inspiration behind the show …
"The show is about my visit to the 2014 Tourette Association of America (TAA) National Conference in D.C. I was already working with my collaborator, Kel Haney, and we were in a residency with this theater company in New York called Mabou Mines. It's sort of a longstanding downtown experimental theater company with whom I had interned years before, and we got this residency to create something — anything — over a six-month period in 2014.
"It was going to be something around my life growing up in New York downtown, something about maybe more personally my life with Tourette's, probably do some dance in there. I grew up dancing quite a bit, and I'm sort of an actor-dancer. I'm not like a professional dancer, but I can move. We were just sort of toying around, and I was just talking to Kel about my personal life. We had worked together on a previous show that I had written, a solo show called You're Not Tough, which was a series of monologues and characters. …
"So I'd be in this rehearsal room just batting around ideas, and I would just tell her these long stories about my life. And she had 100 note cards all over the floor, titled "Middle School Dance," "First Girlfriend Becky," "Getting Jumped on the Subway," "Haircut at the Astor Place," etc., etc. And then all these recordings, and then in the middle of that residency, in April, I went to this conference in D.C."
On his experiences at the TAA National Conference …
"I was sent by my chapter in New York. I'm on the board of the New York City chapter of the TAA, and I was kind of their delegate. I went down there, and it just completely blew my mind because it was the first time in my life I was surrounded by other people with Tourette's. Hundreds chirping and barking and shouting and grabbing people, all these tics I had never seen before, and it really had a major effect on me. It really moved me, and I came home. And I was just talking her ear off about it, and she said, 'Well, we have a show.'"
On the lessons learned throughout The Elephant in Every Room I Enter …
"I would say that Tourette's syndrome is not just cursing. You know, I am interested in making some sort of change, spreading awareness. That's very important for me because I know how hard it is to live with this disorder, but on top of that … I hope that it can expand what theater can be because it's a pretty unique show. It's a solo show. It's got this personal thread. I think it's probably moving. It's funny. I think it's quite unique because amidst all that, it's very much my personality on stage.
"I tell this story. It follows a specific structure. It follows the calendar of the week that I was down there, but then I break out and have all these little distractions. We call them tributaries where suddenly I think, oh, I got to tell this story about in high school when we used to go to this parking area near our school in Brooklyn and make these crazy movies, and this friend of mine said he would only be in the movie if he could get naked and blah, blah, blah.
"So the idea is that the script itself sort of mirrors the way Tourette's affects me because I'm very impulsive, pretty sensitive, and I'm distractible. But I like to think that the tributaries I get distracted by are valuable, so it's sort of just my creative process on stage. … I guess I hope that people walk away thinking that blew my mind, and I learned something about a disorder I hadn't really considered before."
On people's misunderstanding of Tourette's …
"People come away from it moved and surprised and thinking I never had any idea of any this, even people I know, even my parents to some degree. And, of course, they've been through it all. They've been very supportive and loving, but they didn't quite 100 percent understand exactly how it affected me and what the full mental experience was."
By John Soltes / Publisher / John@HollywoodSoapbox.com
The Elephant in Every Room I Enter is currently playing the New York Theatre Workshop in Downtown Manhattan. Click here for more information and tickets.