INTERVIEW: Two former CIA operatives are trying to find 'Escobar's Millions' on Discovery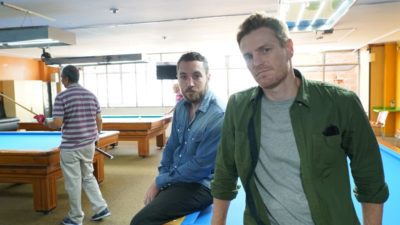 Discovery Channel's new series, Finding Escobar's Millions, follows two former CIA operatives as they head to Colombia to prove or disprove the legend of what happened to the riches of Pablo Escobar, perhaps the most infamous cocaine drug lord to ever live. Audience members will likely know the headlines of Escobar's life and death, which have been dramatized in book form (Mark Bowden's Killing Escobar) and TV form (Netflix's Narcos). Discovery's series goes deeper into the present-day legend of this controversial figure.
At the center of the investigation are Doug Laux and Ben Smith, two friends with CIA backgrounds who head to Barrio Escobar, the neighborhood that Escobar helped to transform with an influx of money. They have unparalleled access to individuals who knew the man in question, and they explore with an eye for definitive proof. They are not interested in perpetuating more myths, but actually finding answers.
"I knew Ben from my career with the CIA, a great friend of mine, and he hopped on board," Laux said in a recent phone interview. "I know he always likes a good adventure, so this was a perfect fit for him as well."
Smith agreed, saying that he was excited by the prospects of the TV proposal.
"When I heard about the project and the proposals being thrown around, this really excited me," Smith said. "It was a pretty interesting time period, very fascinating country, and Pablo Escobar is an interesting character. And the idea of an adventure looking to close out some of the history about his reign, for me, it felt like an opportunity I couldn't turn down. It's a pretty exciting place to be now, but an interesting point in time that I wanted to really delve in and explore."
The fascination with Escobar and his horrendous acts of murder continue to engage viewers and readers. Laux said that fascination should be expected when one thinks about other legendary criminals, such as Al Capone and the gangster's many representations in movies and books.
"I think to a certain degree we have that in the United States as well when you think about a gangster like Al Capone, or you think about movies like Goodfellas or Casino or stuff like that," Laux said. "It's appealing because it's so surreal, and while those are movies, Al Capone was a real guy. He was a real gangster. He is a real horror movie as well, a mass murderer, but we still have Robert De Niro portraying him on screen against Kevin Costner. With the Narcos things and various movies and shows that have been made about Pablo Escobar, I think it's just because it's a story that's so surreal that it's maybe not so much in admiration as just a fascination with the abnormal. Here's a guy who is making the Forbes list selling cocaine, and he's up there with Steve Forbes and Steve Jobs and the guys from Microsoft and Apple. It doesn't fit, and people are forever attracted to that and interested in learning as much as they can about individuals who stand out like that."
For Smith, the fact that Escobar wielded so much power in his home country of Colombia was fascinating. The details of parties and excessive wealth often make the movie trailers and headlines, but Smith wanted to dig deeper on how Escobar affected society and government.
"I think the idea of a man who has all the power in a whole country is pretty fascinating," Smith said. "Certainly there's a fascination with the lifestyle, the party, gross wealth, whatever anyone can think of they can do, but also the challenges with facing down the Colombian government and the American government. It's a real pretty incredible story, pretty insane if you think about it."
When Smith and Laux started their TV project, which continues Fridays at 10 p.m. on Discovery Channel, they were dead set on finding answers. There have been many rumors about Escobar's wealth since his death, and they wanted to know if any of those stories proved true. Laux, in particular, did not want to create a TV series that ended with more question marks.
"For me, I wanted to either prove that these rumors that had been circulating since his death are true, and then find it, or prove that they're not true," Laux said. "I don't want to do anything and just walk away from it and go, yeah, I don't know. It could be or maybe. I want to get in there, and I want to determine 100 percent, or as close to 100 percent as I can, look, it's there. Here it is. It's in my hand, or, hey, look case closed. Let's stop talking about it. It doesn't exist, and here's why. For me, it was kind of a closure thing of, can we stop with the rumors and the myth. Either they are, or they aren't. You say this house is haunted, well, let's go into it then. That's kind of my mindset. Is it or not? Let me see it for myself, and if it scares the hell out of me, I'll tell you it's haunted. But maybe it's not. For me, it was just trying to get to the truth of the matter and providing that answer one way or another."
In that exploration for the truth, Smith was taken aback by the seeming contradiction that can be found when talking to those who knew the real man.
"What I've learned from talking to people who knew him well is that he was a very loving figure, very congenial and very charismatic," Smith said. "He could burn people alive and laugh and watch it while it happened, and then the people around him, people who suffered because of him, could still absolutely love the man. I find that dichotomy, that duality, that same person very interesting. There wasn't a person really that we talked to who knew him that didn't love him as a person, and that was extraordinary to find."
By John Soltes / Publisher / John@HollywoodSoapbox.com
Finding Escobar's Millions continues Fridays at 10 p.m. on Discovery Channel. Click here for more information.