INTERVIEW: Two women connect over shared secret in 'Toys'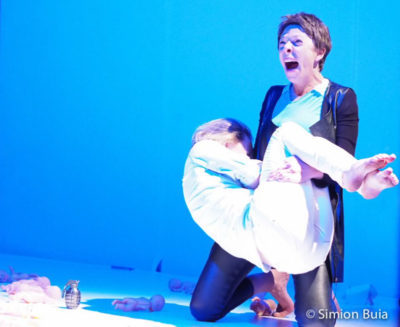 Saviana Stanescu's Toys: A Dark Fairy Tale follows two women, played by Tunde Skovran and Julia Ubrankovics, who come from different backgrounds and different upbringings, and yet find a deep, personal connection. One is from a war-torn country, and the other is from New York. On paper, they are worlds apart, and yet by the end of Stanescu's play, which is currently playing at 59E59 Theaters in Midtown Manhattan, the two women have found more than one similarity.
"They have such different experiences," Stanescu said in a recent phone interview. "One is from the West, and one is from the East. … [One] was raised in a country like the U.S. with everything there, with loving parents and everything she needed in terms of education and material needs, and the other one lives in a country torn by wars. … My idea was to bring these two women together. They confront each other, but then they discover that they share a secret. They share something."
As a playwright, Stanescu wants to explore how people can connect no matter the region or country they may come from. Often the world focuses on the seemingly impossible divides that keep people apart and fighting with each other; Toys tries to work its way through the darkness and into the hearts of these women. She said it's the characters' shared need for love and connection that drives them together.
"I like to say that initially I wrote the play for these two women as two separate characters, one coming from a war-torn country, one from the U.S, and now it's very interesting," she said. "Now … [the] nightmarish confrontation may be with yourself as an immigrant, as a person born in another country, as a person who is still trying to belong here in the U.S."
The two actors who are helping Stanescu bring this play to life have a connection with the writer. Stanescu is Romanian, and the performers are from Transylvania and Hungary (but now living in Los Angeles). "So we share the sort of eastern European experience of being an immigrant in the U.S.," the writer said.
The director, Gabor Tompa, also brings a unique perspective to the world of these two characters. Stanescu called Tompa imaginative and powerful, and that he brought his own directorial interpretation to the drama. Together, these four artists have crafted an evening of intense, high-minded theater.
Stanescu has been widely produced in the U.S. and is one of the most successful playwrights from eastern Europe. Her other plays include Aliens With Extraordinary Skills, Useless, Ants, For a Barbarian Woman, Polanski Polanski and Waxing West. She has also been produced in her native country, in addition to cities and countries around the world.
Stanescu's success wasn't immediate. Growing up behind the Iron Curtain during the Cold War meant that some of her young ambitions were put on hold.
"At that time, when I was in Romania, and I grew up during the totalitarian system of [Nicolae] Ceaușescu," she said. "So there were not many opportunities for writers. There was censorship and all that, so basically I was able to start working as a journalist and as a writer only after the revolution, in 1989. I was there as a college student in the streets in the revolution in 1989, in December in the streets of Bucharest. … We didn't have any playwriting programs in Romania at the time, so I started playwriting in Germany first in English."
Stanescu arrived in the United States two weeks before 9/11, her image of peace and democracy shattered by the terrorist attacks.
"I got here to New York when 9/11 happened, and that year was, of course, major for me because I felt like a New Yorker," she said. "But I also learned so much about being in the U.S. and being in New York. … I started to write in English in New York, and I went to school at NYU. I did an MA in performance studies and an MFA in dramatic writing at NYU, so basically my career completely changed starting to write in a second language."
By John Soltes / Publisher / John@HollywoodSoapbox.com
Toys: A Dark Fairy Tale is currently running at 59E59 Theaters in Midtown Manhattan. Click here for more information and tickets.