INTERVIEW: Native Voices Short Play Festival explores future generations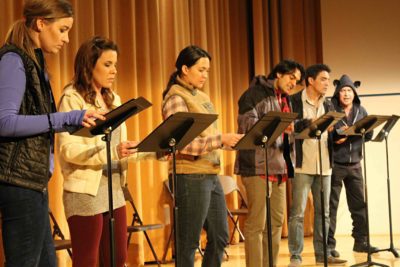 Native Voices, the important theatrical initiative housed at the Autry Museum of the American West in Los Angeles, gives voice to the many creative individuals in Native American, Alaska Native and First Nations communities throughout the United States. Every year, the project, led by producing artistic director Randy Reinholz (Choctaw) and producing executive director Jean Bruce Scott, stages performances at the Autry and other venues, always focusing on a panoply of diverse playwrights and actors.
On Sunday, Nov. 12, Native Voices will present its seventh-annual Short Play Festival. This year's installment is titled Seven Generations, and it features six plays, all vying for the Von Marie Atchley Excellence in Playwriting Award. On the same day, audience members will also have the chance to experience the American Indian Arts Marketplace, an annual tradition that has crafts, paintings and pottery pieces for sale.
"We're doing the Arts Marketplace again as they do every year, and they bring over 200 artists to the museum and display all of their work," said Scott in a recent phone interview. "During that we do our festival of new plays. This is our seventh festival, and the theme for this year is the 'Seven Generations' principle or value of the Haudenosaunee people, and what it asks individuals to do is to consider the effects of what we're doing today on the next seven generations. And within that, we can also look back at what people did five, six, seven generations ago to bring us to the place we are today. So you can look backward and forward at the 'Seventh Generation' principle, so we asked playwrights from across the United States to consider this in their work and to write short plays."
The plays run anywhere from five to 15 minutes, and Native Voices received approximately 25 entries this year.
"They were all quite different, very different," Scott said. "Many more serious plays this year than we've gotten in the past. Some of the past themes have lent themselves to more comedy, but this one people took very seriously. So we have six terrific new plays."
One play is Flight by DeLanna Studi (Cherokee), a playwright who also has an impressive résumé as an actor. She starred in the first Broadway tour of August: Osage County, in addition to productions of Finding Home, Astoria: Part One and Part Two, and her own play, And So We Walked. Her piece for Native Voices details a daughter who turns to her father's wisdom to take care of her fear.
"We have a play called Two Brothers by Montana Cypress, who is Miccosukee Tribe of Indians from Florida," Scott said. "Two Brothers was a very intriguing script because it's somewhat mysterious. We encounter two young men in the Everglades watching what is going to be their last sunset, and what we know is that it's at the time of the forced march of the Miccosukee people from their homeland by Andrew Jackson out to Indian territory. And the boys fill us in on what is happening and what the information is, and then we're left to consider both what they've decided to do and also what we might do in that same situation. As it turns out, many of the Miccosukee — they were not called that at the time — but they went deeper into the Everglades and continued to fight. It was the only time in American history when all branches of the military were brought to bear in what was called the Indian War, trying to kill the last of this particular tribe, but they didn't, thank goodness. And many, many, many years later they were awarded their federal recognition as the Miccosukee Tribe of Indians in Florida, so it's a sad story. But it's also a story of resilience."
Another selection is Trail Trees by Ed Bourgeois (Mohawk). In this piece, trees in a forest try to place the next generation of walkers back on the right path. The playwright has a history with performing arts in Alaska and Hawaii, and he won the Short Play Festival's Von Marie Atchley Award in 2016.
"The next one is Seeds by Laura Shamas," Scott said. "Laura is a Chickasaw playwright. She lives currently in the Los Angeles area, and her play takes place in the future. And we don't quite know what's happened, although we learn in the play that it's a somewhat stark future with little water and/or food, and these two siblings have come to close their father's home, their parents' home, and have given away most of his possessions. What they have left is a jar of seeds, and we discover in the play what the seeds are for, where they came from and how they might help these two siblings and their tribe in the future. So that's quite a beautiful play and certainly someone who is thinking about the next future generation."
The Unborn of the Future Nation by Claude Jackson Jr. (Gila River Indian Community) looks at negotiations between the traditional keepers of the land and the new "first generation." Jackson has been represented twice before in Native Voices' Short Play Festival, with They Shoot Basketballs, Don't They? and Waiting for H2O.
"We have a play called Rites of Passage," Scott said. "This is an out-and-out comedy, and this play is by Ajuawak Kapashesit. He is White Earth Ojibwe and [Washkaganish] Cree. This is a very common story, especially within Native Voices. It's three actors who are squeezed into a tiny studio apartment in Hollywood, and they're each from different generations and have played different kinds of roles. But somehow it seems as though it's always the same role in film and television until the youngest one is asked to simply be. He's not playing a Native character or a non-Native character, but the producers have asked him to cut his hair in order to take this role. And it's a big role, and he has to decide whether or not he'll do that. But it's a comedy, and you'll recognize a lot of the characters that the actors are talking about having played. You'll certainly recognize them from your view of film and television over the last 40 years."
By John Soltes / Publisher / John@HollywoodSoapbox.com
Native Voices' Short Play Festival will run Sunday, Nov. 12 at 1:30 p.m. at the Autry Museum of the American West. Click here for more information and tickets.