INTERVIEW: Ben Edlund's 'The Tick' is back and ready to fight villains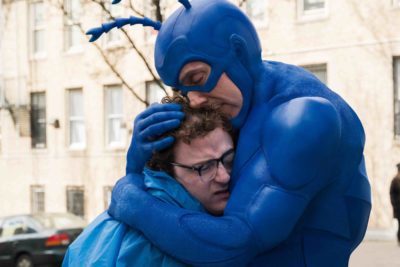 For fans of superheroes and comedy, and the wonderful marriage between the two, The Tick is a welcome name, indeed. The creation of Ben Edlund has seen several incarnations over the years, and now it's back as an original series on Amazon Prime Video.
Peter Serafinowicz stars as the title character, a superhero who teams up with Arthur Everest (Griffin Newman) to fight a bunch of nefarious foes. In the first season, which is released on the streaming platform Friday, Aug. 25, the duo fend off the villainous deeds of The Terror (Jackie Earle Haley).
Edlund executive produces the new series, which is actually not the first adaptation of his characters. An animated series and live-action show were also made years ago. This time around, Edlund is "very excited" to have fans see the 2017 version of his creation.
"I am excited to have another incarnation of the creation, yes," Edlund said recently in a roundtable interview with journalists. "The Tick has a very interesting existence. It's been a 30-year, multi-kind-of-dimensional presence that this thing's had. I would not have guessed. It's sort of beyond imagining that we're doing another live-action show with as much backing as we're getting from Amazon and as much, sort of, you know, reception we've received from the fans. Yeah, so I'm very excited."
The Tick's first group of episodes will be released Friday, Aug. 25 on Amazon Prime Video. The second slate of episodes comes in 2018.
By John Soltes / Publisher / John@HollywoodSoapbox.com
The Tick is available on Amazon Prime Video, beginning Friday, Aug. 25.