INTERVIEW: Tara Strong sparkles in 'My Little Pony' animated series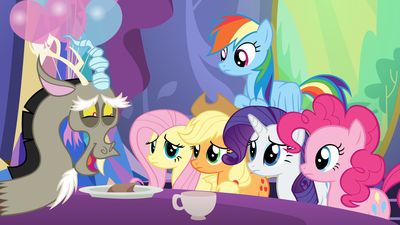 My Little Pony: Friendship Is Magic is back with all new episodes, and now fans have even more chances to check out the voice talents of Tara Strong. The actress voices the lead character on the Discovery Family show. As Twilight Sparkle, Strong has the difficult job of leading the ponies on their magical adventures. Joining her are fan favorites Rarity, Applejack, Pinkie Pie, Rainbow Dash and Fluttershy.
The new episodes begin airing Saturday, April 15 at 11:30 a.m. on Discovery Family.
Strong is a legend among voice actors. The actress has provided her talents to some of the most successful fandoms in the world. Audiences can watch Rugrats, and they'll hear her baby talk as Dil. Who's that on The Power Puff Girls? None other than Strong as Bubbles. Ditto for Timmy Turner on The Fairly Odd Parents and Harley Quinn on Batman the animated series.
There may be no other role she's more celebrated for than Twilight Sparkle on My Little Pony, a franchise that has gathered tons of fans, young and Brony alike.
"I knew when I was 4 years old that I wanted to be a singer, dancer, actress, and when I grew up in Toronto, one of my first auditions was for the voice of Hello Kitty for the animated series," Strong said in a recent phone interview. "I did quite a bit of on-camera, theater and animation in Toronto before moving to Los Angeles, and I still do some on-camera. But voiceover is definitely the bulk of my work. It wasn't a conscious decision. It's just kind of how it's gone, but again I can't complain because it's such a fun life."
When Strong auditions for a new character, she's typically given a drawing of what the creation will look like. This helps her find the appropriate voice for the character. She also reads the character description and views slides from the show. The actress will develop her own voice but always be prepared for modification when in the studio.
"They may go, 'Oh, she's a little bit older or younger, or now she has braces or chubbier or taller. And maybe now it's a boy,'" she said. "You kind of have to be prepared to play around, but for Pony, Lauren Faust, who first created Friendship Is Magic, I worked with her on Power Puff Girls. And she actually came to my house with the drawings from Equestria. She said, 'I would really love it if you could help me pitch this. Would you lay down Twilight and Pinkie Pie and Applejack in your studio because I can make a little pitch presentation?' So I actually didn't have a formal audition for that. We were just hanging out in my house, and she said as soon as she heard me do Twilight, she knew that that was the role she had wanted for me."
Once Strong creates a character, the voice stays alive in her head, which helps her when having to recall the particulars for future episodes. She will receive scripts in advance, and, unlike her early days as a voice actor, she also receives storyboards electronically. In the past, she would have to receive gigantic hard-copy storyboards and piece together the scenes.
"The director can play the storyboard so you can see what action is taking place," she said. "With voiceover you have to bring it all to life with your mind. … It's going to be different if you're falling off a cliff, or if you see a cute guy. So it's important to read what's going on, and before sessions, I like to warm up my voice with my singing coach's exercises and just be ready because inevitably they're like, 'There's a little song in this that we forgot to tell you about.' That happens a lot."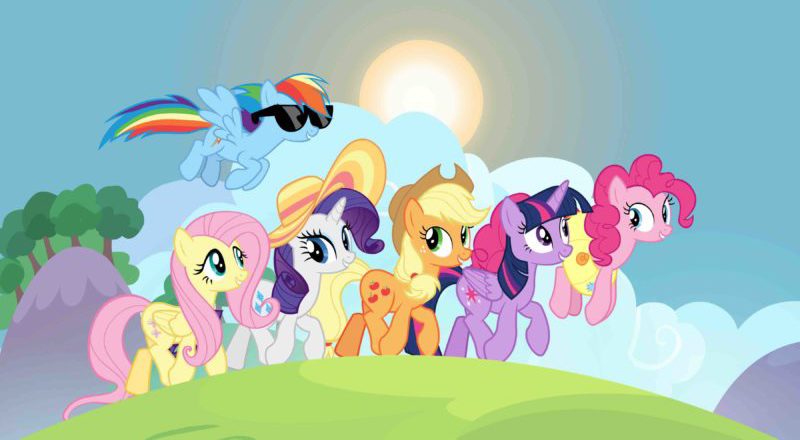 When recording her voice talents for My Little Pony: Friendship Is Magic, Strong will be in the studio for up to four hours. For this show, she typically works by herself at the microphone, and she's able to complete seven or eight episodes in that four-hour span. The other method, in which Strong would perform her role with other voice actors in the room, is a model she's experienced in the industry as well.
"I think it's always fun creatively to be able to play off the other actors because if someone says something a certain way, and you want to mock them or react to them, it's helpful to hear how they say it," she said. "As a performer, it's definitely more fun to hear what your cohorts are doing."
Strong is a common presence at fan conventions where she is always commanding long lines and signing autographs for eager fans. She loves the dedicated fandom that comes with the My Little Pony franchise. At her signing table, she'll meet young fans who are still playing with the toys, and she'll also meet adult fans who remember playing with the toys in their youth. She welcomes everyone at the table, from young to Brony and everyone in between.
"I learned about the Bronies and the fandom on Twitter, and they're just the sweetest fan base ever," she said. "They're so supportive and not afraid to speak out and come to these cons and dress up in funny Pony costumes. They're very inclusive and sweet and generous. Whenever I put out a cause, they're the first to donate. I've raised $300,000 for kids with cancer and about $200,000 for various animal-rescue causes just through my fans on Twitter. Most of them have been Pony fans."
Strong said she believes the main attraction to the show for adult fans is the nostalgia. It's also a safe show where the humor is family-oriented, and yet some viewers can appreciate the Easter eggs, or hidden jokes that maybe only older viewers will understand.
"The stories are fun," she said. "The music is wonderful, and I think in terms of the personalities, when you're watching it, there's someone that you can relate to. There's definitely a pony that you can relate to. There's different colors and ages and backgrounds, and I think people just find themselves in some of the ponies and find themselves reminiscing about different situations that they may have been in themselves. And it just seems to transcend all ages and genders. It's just kind of a phenomenon."
She added: "Certainly these cons really give voices to these fans that want to connect to you and love you and tell you how much they mean, and it's so moving for me. I was just recently at a con where a woman came over to me, and her daughter was talking to me and crying and really happy. And she just wanted to give me a hug. The mom said, 'My daughter is autistic and hasn't spoken in two years. And she got so excited to meet you that she started speaking again.' I mean those kind of moments are pretty special."
When signing autographs, Strong will even oblige a request to say a sentence in the voice of Twilight Sparkle. Her only ground rule is that she will not say anything dirty. Other than that, she seems to be a voice actor dedicated to her fan base.
Looking back on her illustrious career, with past triumphs and future roles on the horizon, Strong can say that she has carved out a unique path to international recognition. More than anything else, she loves the chance to embody characters that help her stretch her acting talents.
"You really get to stretch your acting chops, and, for me, it's so fun to be able to play different characters," she said. "I remember my mother-in-law was visiting once, and I took her to a taping of Rugrats. And then right after that was a taping of Drawn Together, and I said to her, 'Just as a warning, this is not Rugrats.' It's so different and fun to get in a booth and sing about making out with a different character. [That] was definitely different than a children's cartoon, so it's fun to mix it up."
By John Soltes / Publisher / John@HollywoodSoapbox.com
My Little Pony: Friendship Is Magic returns with all new episodes Saturday, April 15 at 11:30 a.m. on Discovery Family. Click here for more information.