'Star Trek' conventions rolling into New Jersey, Boston, Chicago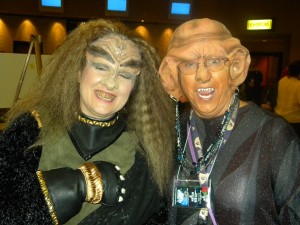 Creation Entertainment has set up a group of Star Trek conventions for 2014, and here's your guide to all things Trek.
• April 25-27 in Cherry Hill, N.J. (near Philadelphia) — Creation Entertainment gets things started at its annual South Jersey convention. This year, fans can expect to see Kate Mulgrew, Nichelle Nichols, Terry Farrell, James Darren, Anthony Montgomery, Robert Beltran, Robert Picardo, Suzie Plakson, Robert O'Reilly (as Gowron), J.G. Hertzler (as Martok), Aron Eisenberg (as Nog) and Max Grodenchik (as Rom). John Paladin will offer a makeup seminar, plus there will be a costume contest; talks by Gene Rodenberry's longtime assistant, Richard Arnold; and a karaoke party. Gold weekend passes are $339. Silver weekend passes are $149. General admission is as low as $20 per day. Autographs run from $20 to $60 (for Nichols). Photo ops run from $40 to $69. Click here for more information on the location and times.
• June 6-8 in Chicago — In the Wind City, fans will meet William Shatner, Mulgrew, Jeri Ryan, Nichols, Plakson, O'Reilly, Hertzler, Montgomery, Grodenchik, Eisenberg and Beltran. John Tenuto will offer lectures about Star Trek's presence in newspapers and collectibles. Prices are similar to the New Jersey convention. Take note: Shatner's autograph and photo op are $90 each. Ryan is $50 for an autograph and $60 for a photo op. Click here for more information on the location (actually, it's hosted near O'Hare Airport) and times.
• June 21-22 in Boston — Expected guests: Mulgrew, Scott Bakula, Avery Brooks, Farrell, Beltran, Montgomery, Tim Russ, Grodenchik and Eisenberg. Because this is a two-day convention, gold passes are $210. Silver passes are $149. General admission each day is $20. Autograph and photo op prices are similar to the other conventions. Bakula will be present in the vendors room, offering his autograph for a nominal fee (his photo op is $80). Click here for more information on the location and times.
• On the horizon is a summer convention in Las Vegas (the largest of the year) and fall convention in San Francisco. On a side note: April's Chiller Theatre in Parsippany, N.J., which takes place the same weekend as the New Jersey Star Trek convention, will have Walter Koenig. Click here for more information.
By John Soltes / Publisher / John@HollywoodSoapbox.com