Appreciating the near-perfection of 'Homeland'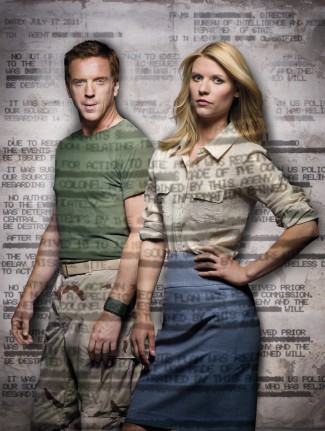 It's hard to live in America without having watched Homeland, the award-winning Showtime series that recently completed its second season. There are so many conversations among friends, families and colleagues about the provocative show that it's must-see television around the water-cooler.
My confession: I only recently finished watching season 1 on DVD. I'm a little behind on the fury, but I can easily understand why the adventures of Carrie Mathison (Claire Danes) and Nicholas Brody (Damian Lewis) have so transfixed TV viewers. The show has taken so many refreshingly compelling steps for a serialized drama, and that's a rare thing in the world of television. How many shows have gone astray — Dexter, anybody? How many shows have ticked off audiences — The Killing, anybody?
Homeland only disappoints in its momentary glimpses of incomplete perfection. While watching season 1, it was obvious that the show is some of the best television in the marketplace. However, it never achieves perfection. This is somewhat disappointing, but not enough for any of us to turn away. These slight imperfections mostly come in the middle of the inaugural season when (spoiler alert!) Mathison and Brody have a tryst at a cabin in the woods. When the drama moves away from the goings-on of the CIA, it becomes overly melodramatic.
Aside from that momentary lapse, it has been a pleasure to watch Homeland. The plot is ripped from our news headlines, and the scripts are intelligent and beautifully written. Any time Mandy Patinkin (playing Saul Berenson) is on screen, the show flies sky high. He has an uncanny ability to deliver lines in such a serious, yet nonchalant, manner. It's a performance rooted in reality, which helps a show that deals with internationally intense concepts that could easily stray into the land of furrowed brows (like Patinkin's last TV show, Criminal Minds).
Danes, always an under-appreciated actress, is a great troubled heroine, a woman dealing with bipolar disorder and an increasingly frustrated top brass at the agency (headed by David Estes, played by David Harewood). She's likable, yet terribly, terribly flawed. If we didn't know of her difficulties both personally and professionally, we would probably hate Mathison. She breaks far too many rules and never paints within the lines. But, of course, this makes her a compelling character.
Lewis is good as Brody, although if there had to be a weak point in the casting department, it would have to be him. His steely stares and method style of acting never seem to fit. Some would say (and they would be partly right) that Brody is never supposed to fit in, given his questionable history and ties to terrorists. But this makes him a frustrating creation.
His family, including Morena Baccarin as his wife Jessica, feel similarly out of step. They're just all right, and their inadequacies as characters are heightened because they find themselves in a stellar show.
That's Homeland season 1 in a nutshell. It's so good that we're simultaneously aware of its strengths and slight weaknesses. I'll try to focus on the strengths.
By John Soltes / Publisher / John@HollywoodSoapbox.com
Homeland, starring Claire Danes, Mandy Patinkin and Damian Lewis, airs on Showtime. Click here for more information.