LAST CHANCE: 'Bring it On: The Musical' has plenty of spirit to go around
Bring it On: The Musical, which finishes an extended run at the St. James Theatre in New York City on Dec. 30, has a lot of pep and spirit. The show, a loose adaptation of the film, features a libretto by Jeff Whitty, music by Tom Kitt and Lin-Manuel Miranda and lyrics by Amanda Green and Miranda. The creators of the two-act piece have smartly interjected several musical styles into the Bring it On story, and this gives the teenage angst a feeling of authenticity and well-earned dramatics.
However, given that the source material is fairly light, the show can only achieve so much. The winning cast does a yeoman's job of bringing everything to life, but their efforts can only dazzle up to a point. They're not acting in a musical of great depth and passion. At the end of these two hours and 30 minutes, we have a corny love story wrapped in a competition tale about cheerleading. Great fun, but hardly groundbreaking.
Taylor Louderman plays Campbell, the pretty cheerleading captain for Truman High School. She's dedicated to her craft and quite nice with her colleagues. When she has to let down an overweight friend (Bridget, played by Ryann Redmond), who auditioned so hard for the team, Campbell shows remorse and courtesy. The same cannot be said of Skylar (Kate Rockwell), a ditzy blonde who lives for her looks. There's also Eva (played by either Elle McLemore or Nikki Bohne), a character obsessed with becoming the new "Campbell."
Everything is going swimmingly at Truman, and it appears that the competitive cheerleading team is headed for the top crown.
But then we're reminded that a musical needs some type of conflict, no matter how far-fetched. Right before school is about to begin on their senior year, the town redistricts the neighborhoods, and Campbell and Bridget find themselves attending Jackson High School, located on the so-called other side of the tracks. Their dreams of becoming cheer champions are dashed, and now they need to fit into a different culture.
It doesn't take Nostradamus to see where this story is headed. Campbell convinces the Jackson dance captain, Danielle (Adrienne Warren), to form a cheer squad and enter the contest. Now, it's time for Campbell to impress her old Truman friends, and learn a little something along the way. Heck, if we hurry up, there may even be time to spark a budding romance.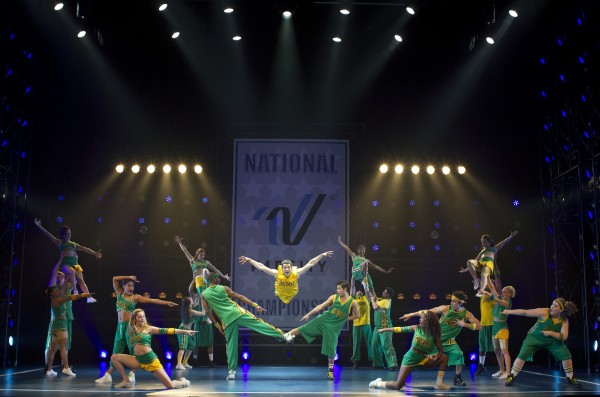 The plot is snooze-worthy, but the show's creators are able to enliven the proceedings with catchy tunes, funny one-liners and unbelievable choreography. Andy Blankenbuehler, who serves as both director and choreographer, is able to create movement that feels suited for these younger dancers. There's a true feeling of having the dance moves match the characters and their identities. And the ensemble, including Ariana DeBose, Gregory Haney, Neil Haskell and Jason Gotay, is able to sell the material well.
Bring it On: The Musical feels like sub-par material given the star treatment, and for that matter, it's one of the strongest new musicals this season. There are plenty of laughs to be had (especially thanks to Redmond's Bridget, who becomes the comedic crutch of the night), and the cheerleading routines can be quite awesome to watch. The cast flips, twirls and throws like the best of them, and this gives the stage at the St. James Theatre a definite feeling of exuberance and enthusiasm. Without an "adult" in the mix, these teenagers fly quite high, in more ways than one.
Kudos to Whitty, Miranda, Kitt, Green and Blankenbuehler for finding the diamond in the rough. Who knew a fairly forgettable film could produce a high-quality Broadway spectacle?
By John Soltes / Publisher / John@HollywoodSoapbox.com
Bring it On: The Musical

Rating:

Libretto by Jeff Whitty

Music by Tom Kitt and Lin-Manuel Miranda

Lyrics by Amanda Green and Miranda

Directed and choreographed by Andy Blankenbuehler

Starring Taylor Louderman and Adrienne Warren

Running time: 140 minutes with one 15-minute intermission

Currently playing at the St. James Theatre at 246 W. 44th St. in New York City.

Click here for more information.