INTERVIEW: Missi Pyle talks about her performance in 'bare' at New World Stages
Missi Pyle has carved out an impressive career in the film and television world. With supporting credits in award-winning movies, including The Artist, Big Fish and Galaxy Quest, the actress has found her way into a tough-as-nails business. Her acting has also delighted audiences in New York, where she co-starred in the Tony-winning production of Boeing Boeing with Mark Rylance and Bradley Whitford a few years ago.
Now, she's back in the Big Apple in one of the most talked-about productions of the year. Bare, a musical with music by Damon Intrabartolo and book/lyrics by Jon Hartmere, is currently playing New World Stages in midtown. The show is a look into the empowerment and fragility of youth, dissecting everything from teenage sexuality to religion to first-time love.
Pyle plays Sister Joan, a progressive nun who gives comfort to some of the young men and women under her guidance. Recently, Hollywood Soapbox talked with Pyle about her career, her role in bare and her album in the works. Questions and answers have been slightly edited.
On performing in the show every night and how she received the role …
I'm having a great time. You know, Sister Joan is a nun, and she's a progressive nun. And I really love her. She's dry, and my friend Jon Hartmere wrote the book and he's the librettist of the piece. He and I had been friends for a really long time, and he mentioned to me about a year ago, I had come out to give a friend a baby shower, and he's like, 'Hey, what do you think about doing a reading of this musical?'
And I had heard about bare, but I … didn't see the original production of it or hadn't really heard any of the music. So, when I came out to do it, I had been wanting to do musical theater for a long time, and I just fell in love with it. And then a year later, they offered me the part.
So, I have had a great time working with the kids. They're so talented and so raw. It's been really fun to be out there with them and kind of be reminded of when I first started acting, just how excited they all are. I love this character because she definitely has faith. … She's this sort of wonderful character, and I have this beautiful moment with Peter (played by Taylor Trensch) at the end of the second act, or in the middle of the second act, where I sing him this beautiful ballad called 'You're Not Alone' just because he's going through a really hard time. It's just sort of nice … we're all just reminding him that he's a child of God. It's a lovely journey.
On finding the energy for eight shows a week …
I remember doing Boeing Boeing and thinking, 'God, this is the hardest thing I've ever done.' And I had done 80-hour weeks on television shows. But just the schedule and these shows, coming and having to be so present, and at the same exact moment no matter how you're feeling.  …
It's crazy, crazy exhausting, and really, really rewarding. … We finish the show at 11 o'clock and then you can barely go asleep in three hours. You're just so high. But it's great fun. … I love that it's a different show every night. It kind of is born and then it dies, and then you do it again the next day. That's definitely something you don't get with TV and film.
On what the audience brings each night …
It's definitely a different show every night. Like last night, for example, there was a lot of young people in the audience. And when it's a younger audience, they are so vocal. And you'll say something, and they're like 'No.' They talk back, and they get really excited. … People have already seen it five, six, seven times. So that's kind of fun to be part of something that people just love so much.
On returning to the New York stage after Boeing Boeing …
I definitely auditioned for certain things, and I kind of was waiting for the right opportunity. I went and did a production of God of Carnage this summer in Indiana at a theater called the New Harmony Theatre. And I was just really ready to come back. … It just was the right time. And now that I've been sort of bitten again, I think it won't be so long.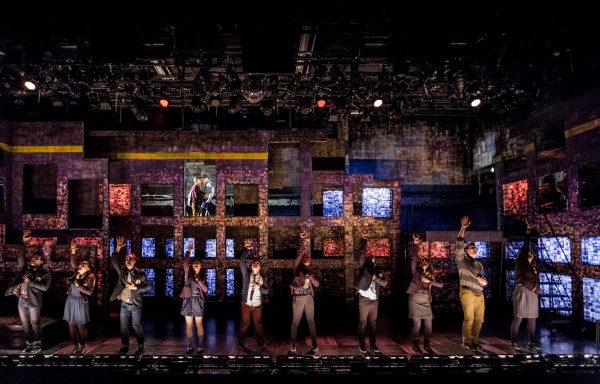 On preparing for the role …
We went through so many changes, and we had like two weeks of tech and three weeks of previews. And it was just crazy to be rehearsing all day and opening the show. It was exhausting. I really never have done anything that was as exhausting as this show. So I love that you get a chance to kind of go off and do it again every night. It's like you get another chance at bat. Like if something doesn't work, or if you find something, you think, 'Oh, I want to explore that again.'
And you really don't get the opportunity to do that again in television and film because you shoot something, and you shoot it a few times in that moment, but then it's done, unless you come back and reshoot something. You move on to something else. The sequential order of it, too. That you start at the beginning and then you go to the end. In film and television, oftentimes you'll shoot the end first, then you shoot the beginning later. … I do love television and film. I love the relationship you can have with the camera; it's similar to that that you have with an audience.
On working with a young cast …
You know what's funny, I walked into it and I'm the seasoned actor. I've always been like, 'Oh, I'm so excited to work with…' Like I worked with Mark Rylance in Boeing Boeing and these other people. And they're all sort of like, 'Hi, I loved you in Josie and the Pussycats, or whatever.' And I think, 'Oh, God. I'm the oldest person in the show.' And that's been difficult for me because I'm not really sure how to play that role. It's not something I'm used to playing. I've never been the oldest person in the cast. So, it's only been difficult in that regard. … And there are times when they're actually looking to me to be the person who is the one they look up to. That's definitely been a challenge, I think.
On the message of bare …
I think this story is very important. There are still kids out there that are being bullied, or have taken their lives. They're still taking their lives because they're scared and they don't have anyone. Or they feel like they're alone. … You're not alone. You're okay. You're created in God's image. You're perfect just the way you are. And I think that message will never get old. No one will ever be tired of hearing that message. That message will always be important.
On resurrecting Smith & Pyle, a country-rock band with Shawnee Smith …
I've actually been working on a new album with another woman named Jenna Price. And Smith & Pyle is definitely something that will hopefully come back. My band mate, Shawnee (Smith), had her third child and so she wanted to take a break. But I've been working with this girl named Jenna Price, and we have a new album that we're hoping to release at some point this year or early next year. The tentative name of our band is The Nice Ladies.
On the difficulties of the show on her voice …
What's fascinating about your voice is your voice is a muscle. So it gets stronger and stronger. You definitely have to make smart choices, and that's something you don't really think about. Like people want to go out afterward, and you can't go anywhere loud. You can't go to a loud place. You have to go somewhere quiet, because you don't want to compete with the noise, because you have to have a voice for the next day. But it's gotten a lot stronger, and I've been seeing a voice teacher. And I warm up every day.
On her favorite moments in the show …
There's two moments in the show for me. One, I do a lounge act as the Virgin Mary, which is so fun. And it's very in my comfort zone. I really love it. … But I love that moment when I sing with Taylor Trensch.
Taylor Trensch is maybe the best actor I've ever worked with. He's so present, and it's such a gift. I just feel like being able to share the stage with him in that moment, and I can sing to him, and it's not something that I have done very much of. So for me it's a very quiet, very raw moment. And just to keep trying to keep it real, and to tell this person who's saying they don't want to be here anymore, you're not alone and you'll never be alone. You're perfect just the way you are, and you don't have to change. That is the moment I look forward to every night. And it doesn't always happen. Some nights are better than the others. That's kind of the great thing about it.
By John Soltes / Publisher / John@HollywoodSoapbox.com
Click here for more information.