LOOKING BACK: 'Breaking Bad' Season 2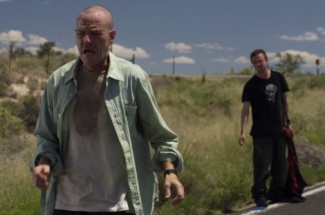 SPOILER ALERT!
With the final Breaking Bad episodes on the horizon from AMC, it's time to look back at how Walter White (Bryan Cranston) and Jesse Pinkman (Aaron Paul) fared in the second season.
Mr. White, as he's called by Pinkman, is in dire straits. But that shouldn't come as much of a surprise to the fans of this award-winning show. From the first episode onward, this central character has endured hellish conditions, most from his own making.
Let's go through the checklist: Him and his wife (Anna Gunn) have a baby on the way. He's disconnected from his son (RJ Mitte). He's probably dying of cancer. He's a broke high school science teacher who is too proud to ask his friends for money. He resorts to cooking meth with an ex-student in a dingy RV in. the middle of the desert. To top it all off, his brother-in-law (Dean Norris) is a drug enforcement official
This man has a wayward path that is worthy of a Shakespearean five-act play.
Along the way, Mr. White has earned some credibility on the streets. His nickname in the meth world is Heisenberg, and his "product" is enjoyed by the addicts of Albuquerque, N.M. Using his science skills, he's able to cook a potable drug that quickly earns a reputation in the neighborhood. Pinkman serves as his distributor, but as usual, he's fairly unreliable. A user himself, Pinkman wants lots of money with little actual work.
Season two includes several new story lines, all of them masterfully handled by the writing team and creator Vince Gilligan. Skyler (Gunn) gets her old accounting job back and is smitten by her old boss. Oh, by the way, she finally has the baby! Hank (Norris) receives a promotion, but he doesn't fit in with the new crowd. Pinkman finds a new girlfriend (Krysten Ritter), who is a recovering addict herself and his new landlord. John de Lancie plays her father. Walt Jr. starts soliciting donations on the Internet for his father's recovery. Walt Sr. hooks up with a crooked lawyer and drug kingpin to make the biggest deal of his life.
The largest problem: Jesse and Walt have too much money, and Mr. Family Man doesn't know how to hide it from the suspicious eyes of Skyler.
Breaking Bad  continues to be quality entertainment in its second season. The tension level is high, and the drama bounces off the screen. To be honest, there's so much tension and drama that the show is somewhat of a drag. It's still enjoyable to watch, but the dread in each episode can be so dispiriting. At one turn, the audience feels for Walt's troubles. At another turn (especially when dealing with fate of Jesse's girlfriend), he seems to be a monster who needs to be caught.
There are no heroes on Breaking Bad, just different gradations of "bad."
By John Soltes / Publisher / John@HollywoodSoapbox.com
To read our other Breaking Bad reviews and features, click here.