'Grace' is under fire in new Broadway play from Craig Wright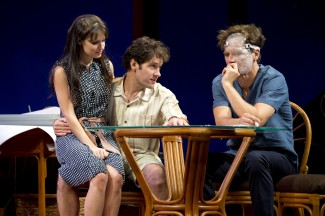 In recent years, the issue of faith has been debated quite often on the Great White Way. Whether it's The Book of Mormon, which is still the top musical dog in town, or recent shows like Scandalous, High, Sister Act and Leap of Faith, religion has fallen under the microscope in the theatrical realm. Although most of these offerings stray toward the comedic, Craig Wright's latest work tries to keep the laughs to a minimum.
Grace stars Paul Rudd, Michael Shannon, Kate Arrington and Ed Asner in a serio-comedy tale of people both losing their faith and gaining it for the first time. Rudd plays Steve, a dedicated Christian who's newly arrived in Florida with the hope of starting a string of Gospel-themed hotels. His equally dedicated wife is Sara (Arrington), a woman with as much Christian zeal as Steve. Their new neighbor is Sam (Shannon), a NASA scientist who lost his wife in an accident that left his face disfigured. He lives a lonely life with a protective mask covering his scars. Asner shows up as Karl, the somewhat jolly exterminator who has a tortured past in Nazi Germany.
For 90 minutes, we watch as these four characters circulate around one another, testing their collective fragility and growing further away from their preconceived notions. Wright is an expert writer who can enliven on-stage conversations with an invigorating balance of humor and real-life drama.
The playwright goes one step further in Grace by letting us see the ending of the play as the first scene. It would be too much of a spoiler to mention specifics, but much of the production turns out to be quite tragic. On their quest to understanding faith, these characters travel in some dark, dark corridors.
Although the nonlinear storytelling is a welcome change, the results are somewhat mixed. Having simultaneous action play out on the same set (even though the action is meant to be in different apartments) can be an extraordinary technique of theatrical examination. One character can storm out of "room A" in a huff, and then seconds later that character reenters "room B" to show us his feelings. The two settings are miles apart, but in Grace they are all played on top of each other.
Less successful is when Wright has the climatic scene of the play run both in real time and backward, like someone were pulling tape through a VHS recorder. Rudd's performance, in particular, is quite hampered by this strange storytelling device. Forced to walk backward and display awkward hand gestures, it all seems positively neat and positively unnecessary.
The focus is best reserved for the three main characters (Asner's exterminator is only present in two scenes, and his role feels underwritten). Steve, Sam and Sara essentially find out about the limitations of their dreams by interacting with one another, butting heads and finding solace in quieter moments of humanity. All three actors are exquisite, especially Shannon, who is making a forceful Broadway debut.
It takes a lot of digging to find out what Wright wants to convey in these 90 intermissionless minutes. And although he falls short, the journey is worth the trip. Grace is an original story, expertly acted by a winning ensemble. Dexter Bullard directs the evening with a steady command, pumping energy and creativity into the proceedings. It's a tough play to pull off, and yet this team does its best with the convoluted material.
By John Soltes / Publisher / John@HollywoodSoapbox.com
Grace

Written by Craig Wright

Directed by Dexter Bullard

Starring Paul Rudd, Michael Shannon, Kate Arrington and Ed Asner

Running time: 90 minutes

Currently running at the Cort Theatre at 138 W. 48th St. in New York City. Click here for more information.

[3.5/4]