INTERVIEW: Erin Mackey on her iconic role in 'Chaplin the Musical'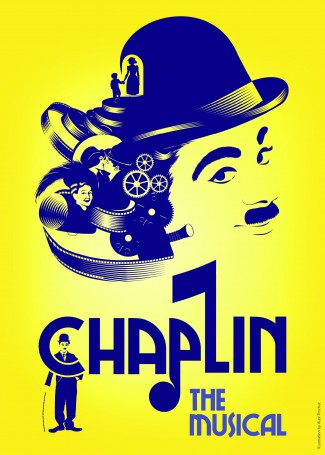 California native Erin Mackey is a busy actress nowadays. Not only is she starring in Chaplin the Musical at the Barrymore Theatre on Broadway, bringing to life Charlie's iconic wife Oona O'Neill, but she's also a earning her college degree at the same time. From finishing her homework to breaking a leg on the Great White Way, Mackey is living the dream of many professional theater actors.
The singer, whose credits include Wicked and Sondheim on Sondheim, grew up in Orange County where her mother always listened to The King and I and supported her venture into musical theater. At the age of 13, she saw her first Broadway show (Annie Get Your Gun, starring Bernadette Peters), and now just a few blocks away from that seminal experience, she's playing Charlie Chaplin's wife in that rare Broadway treasure: an original musical.
Recently, Hollywood Soapbox talked with Mackey about her new role and how she juggles a career on Broadway with college classes. Questions and answers have been slightly edited.
Are you having a good time with the show?
Oh, I'm having a blast. I love the people that I'm working with. It's a great story. Yeah, it's been so much fun. I've kind of had this show in my mind since the beginning of the year. I did a workshop of it earlier this year, and so many people are the same from that workshop that are in the show now. So, I've known them for a while. It's a fun little family.
What was it like auditioning?
Initially they were going to do a workshop in like, I guess it would have been last fall. And so I went in toward the end of the summer — went in, I had a callback, it went really well. … And some of those auditions, you're like, 'Oh, wow. That went so well. I'm surprised it didn't work out.' You know? And then it just kind of left my mind, and then I found out that workshop in the fall had not happened, and they had pushed it back to like the beginning of this year.
So, I went back in just for … a director's work session with Warren (Carlyle). It went really well. I took to Warren immediately. We just kind of understood one another. I read with Rob (McClure), and we kind of instantly had chemistry. And I was like, 'Oh, that's a really good actor.' I had a really nice time working with him.
And my first entrance into the show, I'm like running in because I'm late for an audition. And I can't remember if it was my first round with the auditions or it was the second time I went in, but I … was like two blocks away. I wasn't far from where the audition was, so I was coming from like another reading thing that I was doing. And I was in these cute little shoes and a little dress, and I got caught in this crazy rain hailstorm. And an umbrella was no good. I was soaked to the bone. And I walked into my audition, not even thinking that that was totally crazy Oona style for that scene. I walked in feeling like such a mess. And later Warren's like, 'Actually that was really perfect.'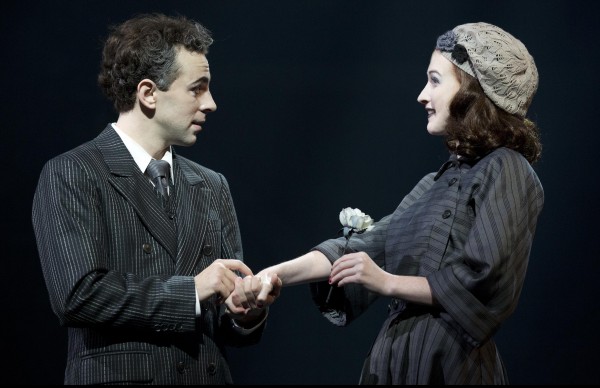 What is it like to open a new show on Broadway, which is pretty rare?
It's been really exciting. I originated (a show) called Sondheim on Sondheim, but it was more of a revue-style show. So, we were all kind of playing ourselves. So this has been really cool because I'm originating this woman, this character, this person who actually lived, which is pretty cool. It's been really exciting.
It was a quick process, because we had done this workshop. I think there were 19 days of rehearsal, so it was very fast. But it all just came together really smoothly. Warren has said multiple times, and I agree with him, it's a very 'yes' group. You just say 'yes,' you just leap and you'll try things. It's a very safe environment to work in. And I had a blast, finding Oona, and finding her with Warren and Rob.
Were you a fan of Charlie Chaplin, or did you need to do work to find out about Oona?
I had to do some work. Yeah, I didn't know much about Charlie Chaplin. I knew nothing about Oona, until I got this audition for it. … I've obviously heard of Charlie Chaplin, and I had seen bits and pieces from his more famous movies, but I did not know very much.
So with Oona, I read a book. There's one kind of solid biography on her. She had such a fascinating life. You know she's the daughter of Eugene O'Neill. She was a debutante, and she had kind of this crazy sort of childhood upbringing, with a really strange relationship with her dad. So I had to do some research, because I didn't know all that much about her.
But through learning about her, I just fell in love with her. I wished so badly I could have met her. … Everyone who talks about her, they talk about how she was so quick to laugh, and she was just such an old soul. She was very wise. She was kind of the epitome of grace. She just sounds so cool.
So many shows a week, and it's a challenging show, are you tired and ready for that day off?
Always when you're doing eight shows a week, you're ready for your day off. You really need it to recuperate and do laundry. … But, you know, for this show actually it's been really lovely because I have a very nice substantial part, and I love what I'm getting to do on stage. But I also have enough time where I'm able to kind of relax.
I'm also going to school, so I take two classes three times a week. It's about two hours. So, I do my homework. … Right out of high school, I went to Carnegie Mellon for a year. I was part of their musical theater program, and then on my summer break after my freshman year, I booked Wicked. So, I left school. And I have just always wanted to get my degree.
You've had some great history with Wicked, was it sad to play your final performance?
It was hard to say goodbye to Glinda. You get very attached to the characters that you play, and that was a dream role of mine. On the same token, I had played it for two and a half years, and … it felt like the right time to be finishing out that part of my life. But it was wonderful. I made my Broadway debut in that show. It was kind of exactly what I was hoping for.
Are you going to be with the show for a few months?
Yeah, I certainly hope so. We seem to be going strong. Those storms kind of hit Broadway, and everyone kind of got knocked down, but we're all getting back up. And everyone's coming to see shows, and everyone's coming back. I hope that we have a nice run, because I think it's a really special story. It's a really special group of people. Rob is so fantastic as Charlie. It's a lovely show.
By John Soltes / Publisher / John@HollywoodSoapbox.com
Click here for more information on Chaplin the Musical.