NY Comic Con adds Batman, Robin, Darth Sidious, Doctor Who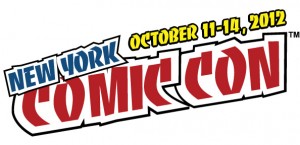 This year's New York Comic Con, taking place Oct. 11-14 at the Jacob Javits Center on Manhattan's West Side, promises plenty of sci-fi goodness to fanboys and fangirls. Among the announced guests so far are Adam West (the original Batman), Burt Ward (the original Robin) and Ian McDiarmid (Darth Sidious from the Star Wars movies).
Other top-profile celebrities who will sign autographs, take part in Q&A sessions and meet fans include Bill Paxton, Christopher Lloyd (Back to the Future), Joshua Gates (Destination Truth), Peter Davison (Doctor Who), Sean Astin (The Lord of the Rings movies) and Tom Felton (Harry Potter movies).
The names don't stop there. Con favorites like Lou Ferrigno and Nicholas Brendon will attend, plus literary giant Anne Rice (appearing Friday only). Ben Folds Five will perform the opening concert.
This being a comic book convention, the names from the comic world are voluminous. All the greats are accounted for: Geoff Johns, Jim Lee, Joe Quesada, Neal Adams, Robert Kirkman and Scott Snyder. Get your Batman, The Walking Dead, The Avengers fix at NYCC this year.
From the anime world, Yoshitaka Amano (Final Fantasy series) will stop by.
Many more names and events to be announced shortly.
Tickets are going quick. VIP passes are sold out. Day tickets are $45-$65, or $35-$50 in advance. Three-day passes (Friday to Sunday) are $75, with a $10 savings if bought in advance. Finally, four-day tickets, which include the Thursday preview night, are $100 on site, or $85 in advance. Most tickets, if not all, will be sold out before the convention begins. Plan early and buy now.
By John Soltes / Publisher / John@HollywoodSoapbox.com
Click here for more information.