'Meatballs' is still silly humor more than 30 years after camp ended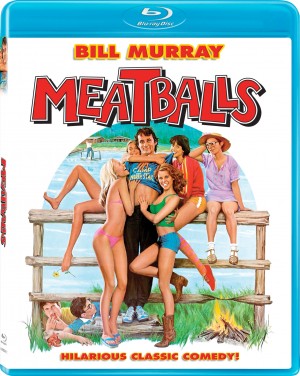 Bill Murray shot to stardom after his starring role in Meatballs, the silly comedy from 1979 that also launched the career of director Ivan Reitman and writer Harold Ramis. The 90-minute classic has lost some of its luster after three decades, but nothing can take away from Murray's performance. It's just as riotous, strange and unique as we first remembered.
The premise is that of a typical summer comedy: It's camp time, and the counselors have no problem acting as immature as the campers. Murray plays the ringleader of a rough-ar0und-the-edges camp that is the sworn enemy of Camp Mohawk, the ritzier establishment just across the lake (enemies always seem to be located across the lake).
The humor is somewhat dated, and the hijinks are more nostalgic than laugh-out-loud funny. But the central performance from Murray still keeps one's interest. His line delivery and complete ownership of the Tripper role elevates the stupidity to a higher level. It's tough to call Meatballs anything else but a cheap excuse at some easy laughs, but Murray completely embodies the character and has fun with the role. Without him, it's likely this 1979 comedy would have been forgotten. But because this serves as Murray's feature film debut, Reitman's movie feels almost like a landmark. After watching the film in 2012, one can easily pinpoint a dozen other movies that have been influenced by these crazy counselors.
Both Reitman, Ramis and Murray would go on to bigger and better movies (Ghostbusters, Stripes, Caddyshack), but Meatballs stands as a decent collaboration between these comedy giants. Amazingly, the movie is rated PG, even though it definitely feels like a PG-13 flick. Keep the young kids away from this one.
Lionsgate recently released the 1979 film on Blu-ray, although it doesn't take a pristine picture and unbelievable sound quality to enjoy the comedy. Stupidity works on all formats.
By John Soltes / Publisher / John@HollywoodSoapbox.com
Meatballs

Directed by Ivan Reitman

Written by Len Blum, Daniel Goldberg, Janis Allen and Harold Ramis

Starring Bill Murray and Chris Makepeace

Running time: 90 minutes

Rated PG

Rating: