'Girlfriend' is a touching debut from director Justin Lerner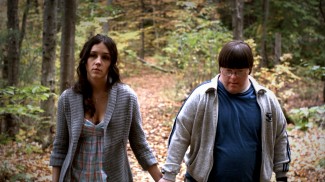 Girlfriend features only a few characters and a somewhat basic story line, but it's 94 minutes prove to be quite emotional. The film, recently released on DVD from Strand Releasing, is the debut feature from writer-director Justin Lerner. He's obviously a name to watch in the industry, showing a deft hand at telling the story of Evan (Evan Sneider), a kind man with Down Syndrome who has a crush on a local girl from his high school days.
Evan is close to his mother, living with her and even working with her at a local fast food restaurant. Although some people around town treat him like a child, Evan is an adult with aspirations to break out of his shell and find that perfect girlfriend. Candy (Shannon Woodward) becomes the object of his affection, and just as Evan is looking for a kindred spirit, Candy could use a friend to talk to as well.
They seem to be a good match, but Candy comes with baggage. She's behind on her rent, facing eviction and her ex-boyfriend, Russ (Jackson Rathbone), is turning increasingly violent over child support payments. Just about everything in Candy's life is toxic, except for Evan. He comes into her life with no preconceived notions and nothing but love for the young mother and her problems.
Girlfriend is a strong movie with dedicated central performances from Woodward, Rathbone and Sneider. Unfortunately, it somewhat loses track as the story progresses into cliche. Russ becomes "that guy" we see in all of these movies: drunk, abusive, vindictive and manipulative. There's not much to his character, except mayhem. It's only inevitable that he clashes with Evan, so many of the surprises in the movie are easily predicted.
Everyone in this depressed plot tries to take advantage of Evan's kindness, either by lying to him, taking his money or continuing fantasies that will never come true. It seems that because Evan has Down Syndrome, his so-called "friends" refuse to take him seriously. They see his gestures of love as social mistakes, evidence of Evan not understanding the situation. In many ways, Girlfriend is a defense of the Evan character; the movie tries to empathize with his passion for life and maturity.
Lerner's direction and writing are genuinely sweet and, at times, tearful. He never exploits the story, even if he too closely follows the rulebook for misunderstood dating films. By making the people circling around Evan fairly rotten, he paints a rather bleak picture of the poor decisions that can plague a neighborhood. There are few chances to enjoy the humor of everyday life. Everyone struggles with their existence, be it Evan, Candy or Russ.
More than anything, the movie finds a great cinematic voice from this first-time director and a strong performance from Sneider. This is quality indie fare that has something to say about how people can build each other up and then tear each other down.
By John Soltes / Publisher / John@HollywoodSoapbox.com
Girlfriend

Written and directed by Justin Lerner

Starring Evan Sneider, Shannon Woodward and Jackson Rathbone

Running time: 94 minutes

Not Rated

Rating: