SUNDAY GUIDE: Four captains unite for Star Trek convention!

Click here for a guide to Thursday events.
Click here for a guide to Friday events.
Click here for a guide to Saturday events.
The Star Trek universe will focus this weekend on Las Vegas and the Rio All Suites where Creation Entertainment will set up shop for a four-day convention. Expect big names (William Shatner, Kate Mulgrew) and rare names (Colm Meaney, Scott Bakula). Tickets will be on sale at the event, but arrive early for the best deals in the vendors room. Thousands of fans will flock to Sin City, so expect some wait times and possible sell outs.
BASICS
The action at the Official Star Trek Convention is split among several different areas at the Rio All Suites.
In addition to the main theater, the convention spills over into a secondary theater, vendors room, photo op area and other banquet halls. Expect lines, but nothing too bad. The Rio is enormous, and last year's event ran smoothly. Many ticket options, autographs and photo ops are still available. Some special dinners and meet-and-greets are sold out, but fans will still have plenty of options to choose from.
Everything starts early and goes late. Pace yourself. You need to take breaks during the day and get away from the convention for an hour or two. If you continue from 9 a.m. to midnight every night, you'll be burned out by Saturday and may be forced to sleep through the Captains Summit on Sunday.
SUNDAY, AUG. 12
Note: Celebrity names are followed by autograph prices and photo op prices. Some guests sign in the vendors room and prices are TBA; this will be noted. Guests will appear in either the main theater or secondary theater. All information is subject to change.
Guests: George Takei ($50, $50), Walter Koenig ($40, $50), Alice Krige ($30, $40), William Shatner ($90, $100), Avery Brooks ($50, $65), Kate Mulgrew ($50, $65), Scott Bakula ($80,$100 ), Steven Culp ($30, $35), Jennifer Hetrick ($35, $35), Glenn Morshower (autographs in vendors room, $40)
Other photo ops: Cirroc Lofton ($40), Michael Dorn ($40)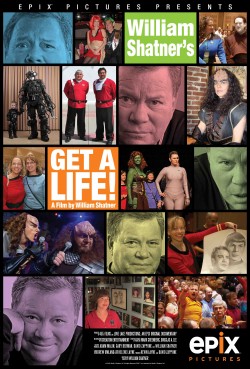 Special photo ops: George Takei and Walter Koenig together ($80), Kate Mulgrew and Avery Brooks ($150), William Shatner and Scott Bakula ($300)
Celebrities in the vendors room: Kitty Swink, Natalija Nogulich, Celeste Yarnall, Tania Lemani George, Barry Jenner, Lisa Locicero, Garth Pillsbury, Lawrence Montaigne, Richard Herd, Felix Silla, Lois Jewell, Arlene Martel, Terrance Evans, Stephen Manley, Michael Aron, Jeff Coopwood
Special events: Presentation by Richard Arnold; a discussion of Star Trek's new merchandising products; William Shatner, Kate Mulgrew, Avery Brooks and Scott Bakula on stage together; screening of Shatner's Get a Life!; no-minimum-bid auction; craft workshop; StarTrek.com panels; lecture on the history of Trek collectibles
Tickets: Gold and Captain's Chair tickets are sold out. Preferred weekend packages ($319), general admission weekend ($149), Saturday reserved seating ($90) and Friday general admission ($40) are available.
By John Soltes / Publisher / John@HollywoodSoapbox.com
Click here for more information.