'Star Trek: TNG' shines brightly, boldly on the big screen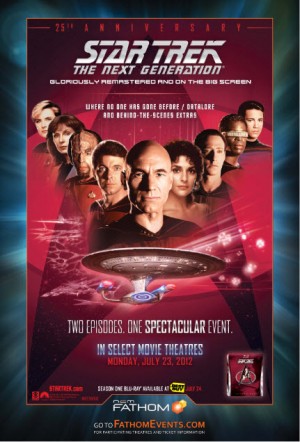 PARAMUS, N.J. — The crowds were immense at the AMC Theaters in the Garden State Plaza, tucked away just off routes 4 and 17 in northern New Jersey. Lines stretched 20 deep as fans forked over money to see The Dark Knight Rises, The Amazing Spider-Man and Ted. While everyone was seemingly focused on the new cinematic spectacles, a select crowd headed for auditorium #12 and the special Fathom Events screening.
It was time to enter the final frontier, a party 25 years in the making.
Fathom Events planned and executed its celebration of Star Trek: The Next Generation's silver anniversary almost perfectly. The showtime began as scheduled at 7 p.m., and almost immediately we were transported into the world of Captain Jean-Luc Picard (Patrick Stewart) and his crew members aboard the USS Enterprise.
Audience members who packed the auditorium (it looked like 80 percent of the seats were occupied) were first treated to a short documentary on how TNG has been updated for the special film screening and recent Blu-ray release from CBS Home Entertainment. Michael and Denise Okuda, consultants on the project, focused their efforts on recapturing the glory of the original series. Any and all enhancements had to stay true to Gene Roddenberry's vision.
The sound was enhanced from stereo to 7.1. The visual effects were tweaked and given a much-needed polishing. Everything increased in clarity and crispness. The colors bounced off the screen, and the overall product made TNG look like a series that just left television.
The main event featured two carefully selected episodes that highlighted the restoration process. "Where No One Has Gone Before" features Eric Menyuk as the Traveller, a mysterious alien who helps the Enterprise achieve the fastest warp speed possible. "Datalore" is a fun episode that features Data and his evil twin Lore. Both segments looked beautiful, and they nicely capsulized the entire series. All of the series regulars, including LeVar Burton, Marina Sirtis, Gates McFadden, Wil Wheaton, Jonathan Frakes, Denise Crosby and Brent Spiner, had some airtime. Wheaton and Spiner probably received the largest arcs in the two selected episodes.
In between, fans were treated to a mini-documentary that went more in-depth about the new Blu-ray release of the show. The bloopers provided the evening with some hearty chuckles.
The night finished with a couple commercials for the new TNG releases, leaving the audience with a smile and excitement for bringing home the restored series on Blu-ray. A few captains' uniforms could be seen in the crowd, but when the lights dimmed and the iconic opening theme music blasted, differences between captains, lieutenants and ensigns melted away. Everyone was an attendee at a 25th anniversary party.
By John Soltes / Publisher / John@HollywoodSoapbox.com
Click here for Hollywood Soapbox's interview with Dan Diamond of Fathom Events.