New 'Auction Kings' episode to feature incredible bidding war over 1955 Thunderbird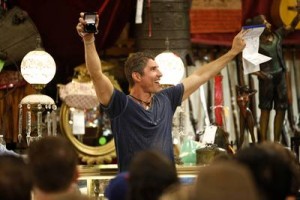 "You bought it!" has quickly become one of the most recognizable catchphrases of any show on television. The saying comes courtesy of Auction Kings, the reality series on Discovery Channel that follows Paul Brown and his staff members at Gallery 63. They help customers find new homes for their rare artifacts, and along the way they see dollar signs and plenty of bidding wars.
On the show's July 12 episode, one of the rarest vehicles in history makes its way to the auction block. This beautifully preserved 1955 Thunderbird is worth $50,000, and with only 300 of them in the world, it's a hot commodity. Its uniqueness and near-perfect condition are what attracts the eyes of Wayne Carini, automotive expert and host of Velocity's Chasing Classic Cars. This is the first time the two series have had a crossover episode, and the results are quite dramatic. The bidding quickly gets out of control, and the price tag sails beyond the $50,000 expectation.
Recently, Hollywood Soapbox talked with Carini and the executive producer of Auction Kings about their respective shows and this unbelievable battle to nab the T-bird.
Here's Part I of the series: A candid talk with Jeffrey Weaver, the man behind Auction Kings. Questions and answers have been slightly edited.
Can you believe Auction Kings has become one of the top reality series?
Well, it's certainly very rewarding to know that we found an audience and they seem to like us. They keep tuning in every week. We're just going to keep making them as long as they keep watching them.
What's the reason people keep tuning in?
I think that our cast in particular, they're an easy cast to watch. Some shows are very cringe-worthy shows, and those are great. There's room for those in the media. Our show is not such a cringe-worthy show. Our cast is fun. You like to watch them. You feel like you'd like to sit down and have a beer with them, and talk to them, learn a little bit about what they do. I think that they are very relatable people.
What goes into producing an episode of Auction Kings?
Some episodes take longer than others. It depends on the complexity of the items that we're covering. It depends when the auction is scheduled. Our ideal scenario is when an item comes in, gets auctioned off relatively quickly and goes to a good home. And then we're able to turn those stories around pretty quickly. Of course, we usually have at least three items on every show. And those three items have to be a good balance. You wouldn't want three cars. You wouldn't want three swords. You really want to mix it up between types of items. So it can be a little tricky sometimes finding that right balance.
How did this crossover episode with Chasing Classic Cars come about?
We're always very interested in items that have historical significance, items that are really cool and items that are worth a lot of money. Well, this 1955 T-Bird is the trifecta. It hits all three of those wonderful points for us. And when we found out that it was available and that the gentleman who owned it was looking to sell it, we were very eager to encourage him to allow us to cover the sale of the car as part of our show. The seller, it was bittersweet for him, because he's had this car for a number of years and he's very attached to it and loves it dearly. But he also knew that it was time to let it go in his life. As he says, he wanted to get a more modern car. So he was thinking about a '65 Mustang.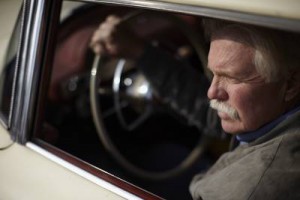 Did it naturally evolve that Wayne Carini from Chasing Classic Cars would come on the show?
A mutual acquaintance of Wayne's and the seller of the T-Bird actually had let Wayne know that the car was available. And Wayne had a client who was interested in the car, so when we found out that Wayne was going to be coming to the auction, we were, of course, thrilled, and saw a wonderful opportunity to have a real automotive celebrity in our auction audience. Also, as producers, we got a chance to feature a celebrity of his caliber on our show.
I can tell you, I've been on the show for a little while. I've seen a lot of auctions, and this is truly one of the most exciting auctions that we've ever featured in the show.
Does it make for better TV that there's a bidding war, or is it equally engaging to have no interest in an item?
I got to tell you, it's sort of an embarrassment of riches for us. It can be dramatic storytelling whether an item goes gangbusters and the bids are through the roof, and it can also be dramatic storytelling if an item doesn't do very well. We certainly always wish all of our sellers well when they get on the auction block, but sometimes it's a tragedy not a success story. And we've featured a few of those in our series. We just try to tell the story as it occurs. If it's an exciting, big auction, we highlight that. And if it's a slow, lethargic or disappointing auction, we highlight that as well.
Could you speak about Paul Brown? He seems likes a good guy.
Paul is a lot of fun to work with, and when you see Paul in person and in public, he's the same guy that you see on TV. He's always quick with a  joke. He shakes everybody's hand, and he's just a fun guy to be around, fun guy to have a beer with. By the same token, he's a smart businessman. He knows that if his sellers win, he wins.
What's the future hold for the show?
We're on the air through late September this season. And we all have our fingers crossed that we get picked up for another season. We're all really excited about the prospects and hope that it goes on and on and on.
As executive producer, is there more of a burden to keep Auction Kings unique and separate from the competition?
At this point, we feel like our show is firmly on its feet. And we feel like we do have a good, solid audience. And so we know that there's a lot of other shows in this space, and we just hope that when we get to work and do our best jobs, that that's going to be enough to make a great show. And we think it is a great show.
How did you get attached to the series?
I came on in season two. I think they were about 10 episodes in. I was very fortunate in that when I came on, the show was already on its feet and was up and running. And I got a great handoff from my predecessor, the executive producer before me. I feel like I've just been handed the keys to the candy store. I've had a blast ever since. I hope it keeps going on.
By John Soltes / Publisher / John@HollywoodSoapbox.com
Auction Kings airs Thursdays at 9 p.m. The special T-bird episode airs Thursday, July 12 at 9 p.m. Click here for more information.