'Men in Black 3' is a perfect summer movie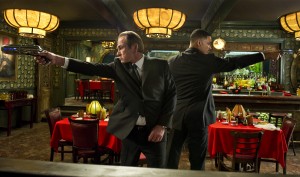 For any reasonable audience member, the expectations for this summer's Men in Black 3 must have been fairly low. It has been a decade since the last sequel, and the memories of agents J and K have largely faded from our collective memory.
It comes as quite the surprise that Barry Sonnenfeld's Men in Black 3 is able to recapture some of that old magic and spin a humorous, adventurous tale. Much of the movie's success lies with the new villain, Boris the Animal (Jemaine Clement, from The Flight of the Conchords). He's nasty and unforgiving, sporting a serpent tongue, eyes that look like night-vision goggles and hard, craggy skin. From his hand appears a symbiotic insect that's able to shoot deadly darts toward unsuspecting victims. Agent J (Will Smith) and Agent K (Tommy Lee Jones) have their work cut out for them.
The uniqueness of Boris the Animal is that Agent K has a long history with the bad guy. Decades earlier, when Agent J was just a boy, Boris and K fought each other on the streets of New York City, and their altercation ended with Boris losing an arm and getting transported to a jail cell on the moon. Now, in the present day, Boris wants to find a way to go back in time and prevent that from ever happening.
If you let the plot take you away, there will be a lot of enjoyment. Time travel stories are always difficult to justify and comprehend. One thing goes wrong in the past and the future will forever be altered. Still, the script works by sending Agent J back in time to meet up with a younger Agent K (Josh Brolin) to stop Boris once and for all.
Along the way, Rick Baker's exquisite makeup work is on fine display. His real-life creations, coupled with impressive CGI, make Men in Black 3 one of the most creative movies on the big screen this summer. The alien species in the film are interesting and fascinating to watch. They all come with their own scales, eyes, tails and claws. There's no two alike, and the available options for these galactic beings seem endless.
The acting is suitably hilarious. Jones plays the straight man to Smith's crazy man; the two work perfectly together. Adding Brolin into the mix continues this comedy duo's hilarity, especially since Brolin is able to channel Jones so effectively. Emma Thompson and Michael Stuhlbarg round out the ensemble cast.
Men in Black 3 will not change the world or win Academy Awards (although Baker might be a lock for a nomination). It will, however, provide ample entertainment in these summer months. The jokes are smart and the creature features are colorful and slimy. For popcorn fun, it doesn't get better than this.
By John Soltes / Publisher / John@HollywodSoapbox.com
Men in Black 3

Directed by Barry Sonnenfeld

Written by Etan Cohen and Lowell Cunningham

Starring Will Smith, Tommy Lee Jones, Josh Brolin, Jemaine Clement, Emma Thompson and Michael Stuhlbarg

Running time: 106 minutes

Rated PG-13 for sci-fi action violence and brief suggestive content

Rating: