Mathieu Demy's 'Americano' follows a son in search of his mother's legacy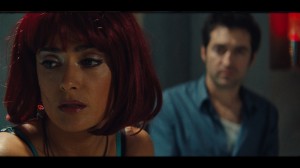 Americano, the debut feature film from writer-director-actor Matheiu Demy, is an often touching look at how a son deals with his estranged mother's death. Demy plays Martin, a man stuck in a difficult relationship with his girlfriend. When he receives news that his mother has died in the United States, Martin is tasked with the job of flying from France to Venice, Calif., and dealing with her estate and recovering the body for burial. But what Martin finds in America is surprising and ultimately soul-searching.
After throwing out many of his mother's belongings and dealing with the many questions from her neighbors, Martin realizes that he's not the best person to inherit her condo. Although he was a son by blood, this man hasn't felt a connection to his mother in years. When his parents divorced, he stuck with his mother in the United States for a while and then was shipped off to his father in France. He felt unwanted and split apart from the two people who should forever love him.
We get an idea of Martin's past from footage that's taken from the movie, Documenteur. Interestingly, this actual 1981 film was directed by Demy's father, Agnes Varda, and starred Demy as a child. It's a clever technique to fill in some of the blanks on how Martin became estranged from his mother.
After sifting through some papers, Martin realizes that his mother had a friend named Lola, and that her wishes were to leave the condo to this woman. With only a loose idea of the whereabouts of his mother's friend, Martin sets off to Tijuana, Mexico to find Lola (Salma Hayek), and the revelations continue to pile up.
Demy shows a careful, sensitive eye to the entire story. He's able to methodically let the plot unfold, and this brings a richness to the characters of Lola and Martin. They both feel like lost souls, two people yearning for something better in life. Much more than a road trip movie, Americano proves to be an investigation into Martin's memories and how he might be able to recreate his mother and the impression she left.
Hayek and Demy are perfect in their roles. He comes off like the everyman in a difficult situation, while she's an independent woman pulled in one too many directions. Together they may have the tools necessary to make each other happy.
Americano, which has played several film festivals, will hopefully find a proper distribution in the United States. Demy's film, which seems very personal and an obvious connection to his father's long resume of work, is touching, thoughtful and brilliantly constructed. It asks the question: Can someone grow closer to a person, even if that person is no longer here?
By John Soltes / Publisher / John@HollywoodSoapbox.com
Americano

Written and directed by Mathieu Demy

Starring Demy, Salma Hayek, Geraldine Chaplin and Chiara Mastroianni

Running time: 105 minutes

Not Rated

Rating: