HUDSON HORROR SHOW: Secret movie is revealed!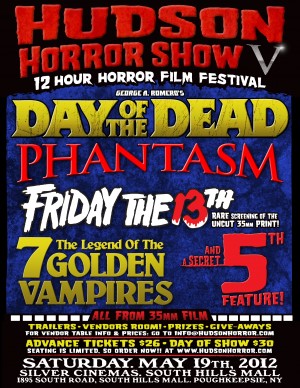 The Hudson Horror Show has been delightfully scaring audiences for a couple of years, and on Saturday, May 19, it plans to continues the fright-fest. Already on the slate of films is Friday the 13th (uncut), Phantasm, George A. Romero's Day of the Dead and The Legend of the 7 Golden Vampires. The producers of the marathon, which takes place at the Silver Cinemas in Poughkeepsie, N.Y., have now announced the secret film that will complete the lineup.
Say hello to: Massacre Mafia Style, an exploitation flick from Duke Mitchell.
Audience members can buy advanced tickets to the festival for $26. Click here for more information. If tickets remain, they will be available at the door for $30. The marathon begins in the early afternoon and continues until midnight (12 hours of ghoulish fun).
Fans can also pre-order limited-edition Hudson Horror Show T-shirts, featuring a neat design of all five films. There will also be trivia contests, giveaways, vendors and plenty of laughs/screams.
By John Soltes / Publisher / John@HollywoodSoapbox.com