'One Man, Two Guvnors' is one of the funniest new plays on Broadway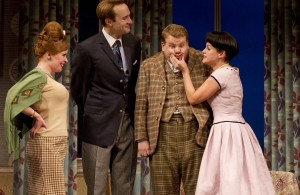 NEW YORK — Richard Bean's updating of Carlo Goldoni's commedia dell'Arte classic, The Servant of Two Masters, is a welcome addition to the New York theater scene. The two-act comedy is some of the best gut-busting entertainment on the Great White Way, and that's in no small part to James Corden's brilliant, star-making turn as Francis Henshall.
In One Man, Two Guvnors, the action of the source material has been transplanted from 1740s Venice to 1960s Brighton, England. Francis is a young man in love with many things, but nothing can top his voracious appetite. When there's a pasty or bag of crisps nearby, his nose almost floats in the air like a cartoon character.
The play is a farcical look at what happens when Francis is hired by two employers (or guvnors) and gets himself embroiled in a scheme of hidden identity and criminality. There is a lot of opening and closing of doors (a staple of any good farce), plus a bountiful amount of energy, wit and humor. What makes OMTG different from say Boeing Boeing or Noises Off! is its dedication to entertaining the audience with an ever-changing bag of tricks. Corden seeks the participation of some unwilling audience members and seems to improvise many of the lines (the jury is still out on how much is scripted). This makes every performance somewhat unique, but consistently funny. Corden is a comedian of the finest order, a person who gives a full-bodied performance. He will not rest until we are in stitches.
The rest of the company doesn't quite live up to its main star, but they are quite skilled as well. There's a great upper-crust attitude to Oliver Chris' portrayal of Stanley Stubbers, one of Francis' guvnors. Jemima Rooper, disguised as her character's dead twin brother, is effective as Rachel Crabbe, Francis' other employer.
The rest of the characters, including a great supporting performance by Tom Edden as an elderly waiter, float around the stage, providing ample opportunity to get sucked into the comedy. The plot and characters are secondary to the laughs. The intent for One Man, Two Guvnors is to let the audience have a good time. One could say the show is the guiltiest pleasure on Broadway; it has no aspirations for deep, thoughtful drama. There are jokes about farts, sex and Pacemakers — all comedic gold.
Nicholas Hytner, who directed the production first at London's National Theatre and now on Broadway, essentially builds a sandbox and lets his actors play around for two-and-a-half hours. Everything looks effortless and off the cuff, but I'm sure every pratfall is calculated to a T. Much credit should be given to the entire cast and crew for making the play feel so unique and personal to the sitting audience.
Bean's comedy is nothing special, but thanks to a brilliant central performance and clever supporting characters, One Man, Two Guvnors succeeds beyond any reasonable expectations.
By John Soltes / Publisher / John@HollywoodSoapbox.com
One Man, Two Guvnors

Written by Richard Bean; based on The Servant of Two Masters by Carlo Goldoni

Directed by Nicholas Hytner

Starring James Corden, Oliver Chris and Jemima Rooper

Running time: 150 minutes

Currently playing at The Music Box at 239 W. 45th St. in New York City. Click here for more information.

Rating: