'Above Suspicion' is police-procedural drama at its finest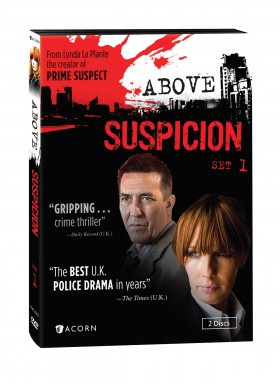 When it comes to police procedurals, there's Above Suspicion and then there's everything else.
This exquisite British drama, which recently arrived on DVD thanks to Acorn Media, is a pull-no-punches, hold-no-prionsers exploration of in-depth police work. Its stars — Kelly Reilly and Ciarán Hinds — play flawed detectives dedicated to their workload. James Langton (Hinds) is too head strong and unflinching, while Anna Travis (Reilly) is too green and naive for her own good. Together, they complement each other almost perfectly, and watching their strengths and weaknesses align provide the series much of its entertainment.
Acorn's two-disc set includes two feature-length dramas, including the pilot (known as Above Suspicion) and The Red Dahlia. Watching this detective work unfold is similar in many ways to AMC's The Killing. The television show is less interested in dramatic revelations at every commercial break (there's no David Caruso bending down at a crime scene), and more interested in truth. Above Suspicion finds its strength in methodical, realistic police work — sometimes it's flashy, and other times leads can spiral into interesting nothingness.
Langton is the boss, the man in charge of solving some of the most heinous crimes currently plaguing London. Travis is his new ward, a woman who seems to have received the promotion because of her father's spotless track record.
At first, the two detectives seem like apples and oranges, too different to find common ground. But Travis begins to prove herself out in the field. In the pilot episode, which is broken up into two parts, the young, attractive detective uses her talents (and some makeup) to hook a sadistic killer of women.
In its outlining of each case, the show's creators don't hold back when it comes to violence or nudity. These criminals and their crimes are authentically malignant, and the carnage level is in the HBO stratosphere. The pilot episode, where we first meet Travis on a crime scene, features badly damaged cadavers that have been left out  in the elements for too long. The camera doesn't fade away, but gets up close and personal with its bloody subject matter. At times, it even becomes too much to handle.
The series is billed as a two-hander between Reilly and Hinds, but Above Suspicion is actually a quality ensemble piece. There's a real sense of teamwork among all of the detectives, and these officers face real challenges. Questions of funding their investigating efforts are brought up, and much of the detective work involves cold calling leads that may or may not pan out. Of course, Travis is situated as the woman who saves the day; otherwise, there would be no way of earning the respect of Langton. But in her own uncovering of the facts, she's methodical and true to the character. There are few smoking guns or a-ha moments in the series; many of the revelations come after thoughtful pondering and fact checks.
For American viewers, it's almost a necessity to utilize Acorn Media's subtitles. The show is built on reality, so there are many accents and turns of phrase that are difficult to follow. It takes a while to get used to all of the jargon and quick-witted banter. But once Langton and Travis invite you into the detectives' room, there's probably no other place a television addict would want to be.
By John Soltes / Publisher / John@HollywoodSoapbox.com
Above Suspicion

Starring Kelly Reilly and Ciarán Hinds

Acorn Media's two-disct set features the pilot episode and The Red Dahlia. Bonus features include behind-the-scenes segments, cast interviews and photo galleries.

Total running time: 254 minutes

Not Rated (includes violence, graphic images, coarse language and nudity

Rating: