Nicolas Cage is stuck in a web of his own making in 'Seeking Justice'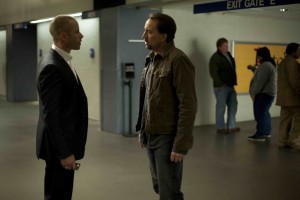 The question has been popped in several films, but the answer always makes for great entertainment: What would you do if you could get away with murder? Alfred Hitchcock famously investigated that quandary in the excellent Strangers on a Train, and now we get Roger Donaldson's Seeking Justice, featuring Nicolas Cage, January Jones and Guy Pearce.
The central plot is a slightly different: Will Gerard (Cage) is in love with his wife, Laura (Jones). They live in post-Katrina New Orleans and enjoy dinner with friends and kissing like newlyweds. They seem to be a husband-wife team made for the movies: He's a high school English teacher in a developing neighborhood, while she's a cellist for the local symphony.
Their utopia is disrupted late one night when Laura is brutally beaten and raped when coming home from musical practice. Will finds her battered body in a hospital bed, and anger begins to take over. But this isn't The Incredible Hulk; despite the horror of his wife's predicament,Will keeps it calm, cool and collective.
And then Simon (Pearce), a total stranger, enters the waiting room of the hospital. He offers Will a simple ultimatum: If he would like the rapist to die, a network of undercover vigilantes can take care of the job. All Will needs to do is give the OK and return a favor down the road. The conversation has the aura of a mobster meeting. One person promises the world, but there are many strings attached to the proposal.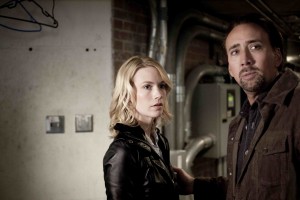 Reluctantly, Will agrees, and the game begins. After the deed is done, this high school teacher realizes he has entered a violent underworld that constantly reminds him that you should be careful what you wish for.
Donaldson's movie is expertly shot around the streets of New Orleans. The first part is a romantic's view of the Crescent City, with its historic streets and twinkling lights. The second part is more brutal and unforgiving. Will is forced to run for his life (and the life of his wife), otherwise Simon and his cronies will catch up.
The film's screenplay by Robert Tannen, based on a story by Tannen and Todd Hickey, is clever and suitable. It doesn't overreach and keeps what could have been a convoluted plot rather digestible and understandable. Still, the movie is far from perfect. The final third of Seeking Justice falls into just about every action-movie trap in the book. There are dark scenes in parking lots and abandoned buildings. Gun shootouts shift the balance between hero and villain, until the inevitable occurs. The worst casualty is Jones's character, who is treated like a piece of meat for much of the film. First she's raped, and then she's lied to by her husband, and finally she's kidnapped. The script doesn't give the actress many lines to say, so there's not much getting to know this pivotal woman. We know she's a cellist, but that's about it.
Cage plays against type and turns in a fine performance. He never overplays the part (a common critique by his detractors), and it's somewhat believable that this "average" man could fall into such extraordinary circumstances. Pearce is also villainously skilled as Simon, the man with the seemingly perfect plan. Jennifer Carpenter, IronE Singleton and Harold Perrineau turn up in supporting roles.
Seeking Justice is better than most thrillers, but not quite up to the same level as Taken, which is perhaps the bellwether for modern-day action flicks. There's much to enjoy in Donaldson's movie, even if there's not much that sticks longer than its 105-minute running time.
By John Soltes / Publisher / John@HollywoodSoapbox.com
Seeking Justice

Directed by Roger Donaldson

Written by Robert Tannen; based on a story by Tannen and Todd Hickey

Starring Nicolas Cage, January Jones, Jennifer Carpenter, Guy Pearce, IronE Singleton and Harold Perrineau

Running time: 105 minutes

Rated R for violence, language and brief sexuality

Rating: