'The Lawrence Welk Show' is bubbly, nostalgic fun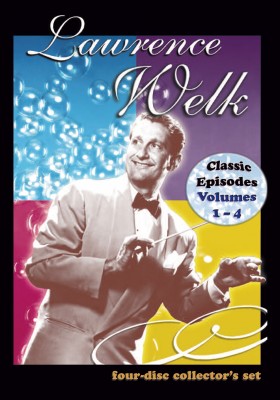 If you're not old enough to have seen The Lawrence Welk Show during its original broadcast on television (and I'm not old enough), watching the variety show many years later on DVD is a middling affair. There's a nice nostalgia that's achieved by the grainy black-and-white images, the smooth playing of Welk's studio band and the overall wholesomeness of the positive proceedings. But, still, for 2012 audiences, Welk and his band feel like historical morsels worthy of admiration, rather than enjoyment.
Synergy Entertainment's The Lawrence Welk Show: Classic Episodes pools together 12 shows from the 1960s. Each one starts out similarly, with lots of bubbles and Welk welcoming the audience to another variety hour presented by [insert sponsor name]. And then it's off to the music. The majority of each one-hour segment revolves around the catchy, always impressive playing of Welk's big band. The audio is not perfect, but the musicianship is apparent.
Breaking from the instrumental work, Welk occasionally talks to the audience or invites a guest into the spotlight. This was not a talk show, so there's no deep discussions about what is happening outside of the TV studio. Everything is peppy family entertainment that could be enjoyed by spectators of any age.
The best part of these classic episodes are the dancing segments. One particular show focuses on classic movie themes (of course, this being the early 1960s, many of this generation's cherished themes haven't emerged yet). While Welk commands the band, a dance floor is filled to the brim with couples shaking and swaying. This being a family show, the dancing is respectful and tame (leaving enough room for the Holy Spirit, as Roman Catholics used to say).
What's so interesting about the dancing is not so much the steps or the skill, but the selection of people who made it into the spotlight. In 2012, TV is all about young, hip, skinny, beautiful. Back then, Welk and his producers let older and younger couples grab some camera time (although it's largely a sea of white faces, without too much diversity).
The Lawrence Welk Show, which continues to thrive on PBS, is not exactly must-see television in the 21st century. Still, Synergy's four-disc set includes enough nostalgic joy for the older crowd that it can cause smiles and a few chuckles. It's almost as if a treasure from a time capsule has been unearthed. Look at how different this framed world is, with all of its proper language, perfect suits and pretty dresses. Everyone is laughing, clapping, dancing and enjoying the music. There doesn't seems to be a care in the world; everything and everyone is so positive.
Who are these people?
By John Soltes / Publisher / John@HollywoodSoapbox.com
The Lawrence Welk Show: Classic Episodes

720 minutes on four discs

Featuring episodes from 1960, 1962, 1965, 1966, 1967, 1968 and 1969.

Rating: