MARQUEE MATTERS: Billy Elliot says goodbye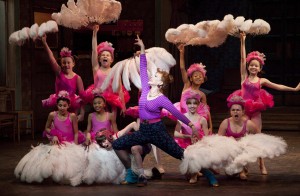 'Marquee Matters' is the new weekly column from Hollywood Soapbox. We'll cover all the news from Broadway, off-Broadway and the rest of the theatrical world.
VOLUME TWO, ISSUE TWO

• We promised readers that the next couple issues would focus mostly on the Los Angeles theater scene. No worries, we still plan on bringing some tidbits about Hollywood offerings. But it would be wrong if we didn't mention the unfortunate closing of a great musical on Broadway.
Billy Elliot has delighted audiences on the Great White Way for a couple years, and, although it had a healthy run, it feels like an unfortunate casualty. Surely this one deserved to be a staple of the midtown theater scene for years. Maybe audiences found it too British. Maybe it wowed New York City crowds, but couldn't hold onto that tourist demographic. Whatever the case, the Imperial Theatre shuttered one of the best shows in recent memory on Jan. 8.
I first caught Billy Elliot like most other people: on film. The movie, directed by Stephen Daldry, was a touching portrait of a community enduring tough times in northern England. The coal-mining strike was heating up the streets, while this young boy was heating up the dance floor, trying to find his feet as a ballet dancer.
My next stop on the international Billy Elliot experience was in London, where I caught the original production (which is thankfully still running). I saw it again when it hopped across the pond to New York City, and my last time was this past fall, when I visited the show to profile actress Emily Skinner (read our story here).
It's certainly sad to see this juggernaut leave. I'm not sure anything could replace its dancing feet.
• Back to Los Angeles … Hollywood Soapbox is preparing an editorial trip to the southern California area this coming week. Although we plan on enjoying some fun in the sun, while also making pit stops at the Getty Center, Getty Villa and Museum of Contemporary Art, we'll be in town to review some top productions as well. Included on our list: Red Hot Patriot: The Kick-Ass Wit of Molly Ivins (starring Kathleen Turner at the Geffen Playhouse), Cirque du Soleil's Iris at the Kodak Theatre and O(h) by modern dancers, Casebolt and Smith, at The Actors Company Theatre.
We also have two other secret shows that we'll tell you about when we come back.
• Los Angeles is also one of the best spots to catch an improvisational comedy act or stand-up routine. The best comedians and comedic troupes have set up shop in Hollywood, and we plan on enjoying a few of their performances. High on our list: The Groundlings and Upright Citizens Brigade. We've also been to The Jon Lovitz Comedy Club at CityWalk in Universal City. That one features some of the best comedians in the business, and patrons get to enjoy a delectable menu as well.
We know about The Comedy Store and The Laugh Factory. Dear Angelenos, any other good comedy places we should fit into our itinerary?
THEATRE TOP 5 OF THE WEEK:
This is a weekly feature of the 'Marquee Matters' column that will offer subjective top 5 lists on theatrical stories and trends.
Top 5 Broadway Theaters

5. Circle in the Square near 50th Street

4. Vivian Beaumont Theatre at Lincoln Center

3. Music Box Theatre on 45th Street

2. Palace Theatre in Times Square

1. Booth Theatre on 45th Street

UPCOMING THEATRE ARTICLES:
In the coming days, expect to read the following on Hollywood Soapbox…
• Reviews of O(h), The Road to Mecca, Cirque du Soleil: IRIS, Red-Hot Patriot: The Kick-Ass Wit of Molly Ivins, Seminar and Wit
• Feature on The Phantom of the Opera
By John Soltes / Publisher / John@HollywoodSoapbox.com