'A Separation' is a revelation and deserves a Best Picture nomination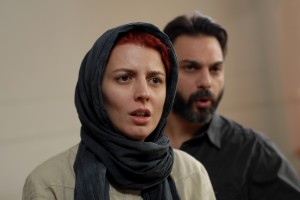 A Separation, the new Iranian film from writer-director Asghar Farhadi, is flawless, a family drama so visceral and emotional that it's almost painful to watch. The characters are realistic, displaying their strengths and weaknesses for all to see (and judge). For a movie that at its heart is about a domestic dispute, A Separation is able to touch on everything from religion to politics.
The film deserves the Oscar for Best Foreign Language Film and a coveted nomination in the Best Picture category.
Nader (Peyman Maadi) is devoted to his daughter, Termeh (Sarina Farhadi), and also his ailing father (Ali-Asghar Shahbazi). He takes precious time out of his workday to go over vocabulary words for Termeh's studies and bathes, clothes and feeds his father, who suffers from Alzheimer's Disease. He is dedicated to their progress.
The relationship with his wife, Simin (Leila Hatami), is not as civil. She wants to leave Iran with the family's newly acquired visas, but Nader refuses to leave his father. Fed up with her husband's obstinacy, Simin moves out and files for divorce.
Enter Razieh (Sareh Bayat), a devout Muslim with a young daughter and another baby on the way. The faithful woman becomes the new caretaker of Nader's house, cleaning the windows and helping with his father. Though she's happy for the wages, Razieh has her doubts about the long-term commitment to the job. She's unsure whether changing the elderly man's clothes is a sin, and also hides from her husband (Shahab Hosseini) the fact that she's working in a married man's house.
Everything comes to a head when Nader comes home one day to find his father lying on the floor, almost dead and with his wrist tied to the bed. Razieh has left him apparently to run some errands, and there's money missing from the apartment. When Razieh returns, Nader pushes the pregnant caretaker out of his house, questioning her morality and firing her on the spot.
Pushing a pregnant woman is a horrible action, but when Nader does it in the film, it comes at a time of uncontrollable fury. He's come home to find his sick father almost dead from neglect and the woman charged with watching the house is nowhere to be seen.
But is there another way to perceive the incident?
After we find out that because of the push out the door, and subsequent fall down a flight of nearby stairs, Razieh has miscarried her child, does Nader look so innocent? The Iranian justice system doesn't think so, and soon enough, the devoted father finds himself charged with murdering Razieh's unborn child.
As I write this summary, without giving away too much of the plot, I can already tell that it doesn't give justice to the exquisite film Farhadi has made. On paper, the story feels too contrived, almost like a horrible example of Murphy's Law (what can go wrong, will go wrong). But A Separation grounds itself in the process of dealing with catastrophe and grief, and by going through these motions, it's extremely easy to believe that all of this happening, and all of this could happen.
The characters are never cookie-cutter archetypes. At different times, you will find yourself wanting to defend a person, and then within a few minutes, you'll be ready to point the finger. There are few people left unscathed, but yet the audience comes to like both Nader and Razieh. They are like Shakespearean constructs with so much emotional weight on their shoulders; it's no wonder they crumble before our eyes.
Razieh is trying to earn extra money for her family, while her husband is out of work. But she continues to run into difficulties over her religious faith. She's devout, and that makes her tread lightly when dealing with the opposite sex.
Nader, too, is pulled in multiple directions. He loves his father, he loves his daughter and he even loves his wife. But each one of them demands different things of him, and he's incapable of properly dispensing his time and resources.
A Separation describes a lot about modern-day Iranian society, and how the justice system feels outdated and ripe for corruption. There are no lawyers during the deliberations involving Nader and the incident, only one guy sitting behind a desk and offering himself as the adjudicator of the case.
It doesn't take much to realize that Farhadi is asking us, the audience, to sit in the seat of this arbitrator. Many camera angles, including the opening shot, are from the perspective of the "other side of the desk." These characters, who rip open their wounds for public scrutiny, are looking right in our eyes. Their fate rests with us.
I, for one, don't want to choose.
By John Soltes / Publisher / John@HollywoodSoapbox.com
A Separation

Written and directed by Asghar Farhadi

Starring Peyman Maadi, Leila Hatami, Sareh Bayat, Shahab Hosseini, Sarina Farhadi and Ali-Asghar Shahbazi

Running time: 123 minutes

Rated PG-13 for mature thematic material

Rating: