GIFT GUIDE: Monopoly's 'Star Trek' Klingon Limited Edition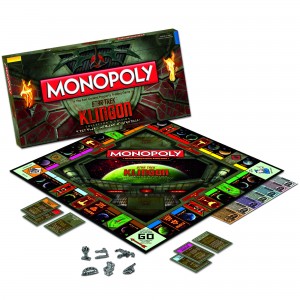 USAopoly has teamed up with the Star Trek franchise to release the brand-new Klingon Monopoly game. For Trekkers, the board game is a must buy.
Everything is the same. Everything is different. The standard Monopoly game is featured with "Free Parking," "Go to Jail" and "Just Visiting." The difference is that everything is Klingon-ified. So, rather than Boardwalk and Park Place, you have Kronos and Khitomer.
There are no railroads, just a Raptor, K'T'inga, Vor'Cha and Negh'Var. Forget about those utilities; they're now Praxis Energy Facility and Rura Penthe Mines.
These changes are great additions to the classic game. Now Klingon fans can enjoy Monopoly in all of its warrior fashion.
Rather than money, players are given Klingon Force. The stacks of cards have been morphed into Combat and Honor categories (two appropriate terms for the Klingon race). The best thing is that the hotels and houses have been replaced by outposts and capitals.
When we played the game, it was with much Klingon pride that we were able to mortgage Earth and Vulcan.
Is it a perfect rendition? No, but it comes close to perfection.
Here are a few minor points: The game pieces represent a Captain's Chair, High Court Gavel, Disruptor, Bat'leth, D'k tahg and Bird-of-Prey. That's all well and good, but with each property representing a planet, one has to wonder: Where are the actual Klingons?
Except for some artwork on the money (or Klingon Force), the ribbed foreheads are oddly missing from the entire game. This could have been solved if the tokens represented some of the famous Klingon characters, like Worf, B'Etor or Gowron.
But, honestly, the fun for Trekkers is endless. If you want to catch some of your favorite characters, then just pop in a DVD or two when you're playing the game.
For those who can speak the Klingon language, you'll doubly enjoy the game. For every English word, there's a Klingon equivalent.
For example, can anyone translate the following?
QujwI' ghom rav: cha'; 'aqroS: jav nen rav: chorgh ben
Beats me. If you can correctly translate that phrase, please leave the answer in the comment field below.
Collectors take note: USAopoly is only producing 1,701 samples. Each game comes personally numbered. Also, as a bonus for Trek fans, each set comes with a replica of the chancellor's cane.
The price tag is $49.95, though discounts are available at Amazon.com. Click here for more information. Hollywood Soapbox received a reviewer's copy of the game. This does not affect our independent voice. We provide unbiased reviews, both positive and negative.
By John Soltes / Publisher / John@HollywoodSoapbox.com