MARQUEE MATTERS: 'Private Lives' to close early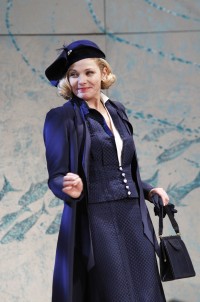 'Marquee Matters' is the new weekly column from Hollywood Soapbox. We'll cover all the news from Broadway, off-Broadway and the rest of the theatrical world.
VOLUME ONE, ISSUE ONE
• Private Lives, starring Kim Cattrall and Paul Gross, has announced its closing notice. The Noël Coward revival was set to play through Feb. 5, but it will now offer its final performance Dec. 31.
Hollywood Soapbox gave the show four stars (read review here). Don't be a coward, see this one before the honeymoon ends.
• Hugh Jackman's one-man show continues to chug along at the Broadhurst Theatre on 44th Street. For the sixth time, the song-and-dance spectacle has broken the house record. Last week, the show earned more than $1.5 million. This one has become the hottest ticket in town, and will remain so for its final three weeks (the show closes Jan. 1, with no talks of an extension).
If you're a die-hard fan who can't find an extra ticket, try stopping by the box office to snag an SRO spot.
• Lysistrata Jones is the final Broadway show to open in the fall 2011 season. This doesn't mean the next few weeks will be any slower. The revamped Porgy & Bess rolls into the Richard Rodgers Theatre, and The Road to Mecca is set to begin previews at the American Airlines.
In other opening news, Cathy Rigby returns to New York City with her iconic performance in Peter Pan, playing The Theater at MSG through the New Year. Expect a review on Hollywood Soapbox shortly.
• Sleep No More has obviously turned into an open-ended run. The Macbeth-style haunted house, which wowed critics in the spring, has consistently extended its tickets sales. By the looks of its web site (click here), every performance sells out. Right now, tickets are on sale through Feb. 11, but I'll eat my weird white mask if that's the final performance.
THEATRE TOP 5 OF THE WEEK:
This is a weekly feature of the 'Marquee Matters' column that will offer subjective top 5 lists on theatrical stories and trends.
Top 5 Shows We Don't Want to Close
5. Hugh Jackman, Back on Broadway
4. Private Lives
3. An Evening with Patti LuPone and Mandy Patinkin
2. Misterman (St. Ann's Warehouse in DUMBO, Brooklyn)
1. Neighbourhood Watch (59E59 Theaters)
UPCOMING THEATRE ARTICLES:
In the coming days, expect to read the following on Hollywood Soapbox…
• Reviews of Peter Pan, Stick Fly, Godspell and Lysistrata Jones
• Features on Rock of Ages and the One Man Star Wars Trilogy
By John Soltes / Publisher / John@HollywoodSoapbox.com