DVD REVIEW: 'The Last Circus' showcases the strangest, most glorious circus of all time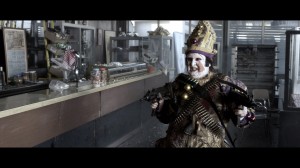 It's extremely difficult to categorize The Last Circus, writer-director Alex de la Iglesia's demented new feature. It's funny. It's horrific. It's strange. It's brutal and bloody. It's the definition of odd, and yet, I couldn't fight the engaging attractiveness of the entire 101-minute feature. The movie is an engrossing grossfest that truly needs to be experienced by those audience members willing to throw caution to the wind.
Javier (Carlos Areces) is a sad clown working for a sub-par circus in 1937 Madrid. Making children laugh is in this guy's blood: His father and grandfather were both clowns until they were unceremoniously dispatched by the ruling authorities. This is Spain during its tumultuous years, the time period when Francisco Franco grew to power and ruled with an iron fist for decades.
Because the narrative is set amongst these transformational years, it doesn't take much of a stretch to deduce that Iglesia is devising an allegory. Yes, Javier is an actual clown, but he also stands for an embittered public beaten down by impoverishment and empty promises. But rather than wallow in his misery, the sad clown turns positively vengeful, dispensing wicked justice to anyone who falls within his domain.
At least, that's what I think is the allegory. Or, hope is the allegory. Who knows? Maybe this is just a movie with debauched circus performers. Either way, I'm on board.
Enter Sergio (Antonio de la Torre), the happy clown and abusive husband of Natalia (Carolina Bang), a leggy acrobat who spins from the rafters of the circus tent. When Javier first meets Sergio, it doesn't go well. Mr. Happy punches his wife in front of everyone, and Mr. Sad seems like the only person who cares.
This fraught love triangle eventually escalates to a savage battle between the two clowns. The victor wins the hand of the lovely lady, and the loser is sent packing.
This premise, as described, is strange, but fairly traditional. Two men, one girl, let's fight.
But what makes Iglesia's film so unprecedented and unique is that it continues to spiral out of control with no stopping for explanation or an offering of reason. Javier, seduced by power and revenge, becomes a maniacal criminal hellbent on destruction. He dresses up like a fairy-tale pope and burns his cheeks with a hot iron (I told you it was going to get weird).
Meanwhile, Sergio suffers a horribly disfiguring injury that leaves his face a skeletal mess.
Taken together, these two look like spawns of Hades, two adults with too much time on their hands.
With Happy turned ugly and Sad turned crazy, Natalia is left with no optimal choice for her suitor.
Although killing and iron-burning sounds quite heavy, much of The Last Circus is meant to be enjoyed with a tongue firmly planted in the cheek. This is whimsical warfare, rather than true depravity. Iglesia never lets the gore get out of hand, and he continues to add in his special touches to heighten the stylized violence (I especially loved when a car blew up and over an apartment building).
The acting is superlative, especially from Areces who perfectly defines the everyman who takes a stunt too far.
In some ways, The Last Circus feels like a Quentin Tarantino film. It's meant to speak greater volumes than its stated purpose. These clowns not only carry on a death-defying series of stunts, but they also represent an increasingly changed society. They show what can happen when one disregards justice and eyes revenge.
This is the story of a man pushed too far, a person unwilling to let the tides of change blow him over. He wants (needs) to take a stand.
This odd, odd, odd creation is exquisite filmmaking that pulses with energy and verve. It will furrow your brow and dazzle your eyes.
Sad Clown vs. Happy Clown — Let's get it on!
By John Soltes / Publisher / John@HollywoodSoapbox.com
The Last Circus

In Spanish, with English subtitles

Written and directed by Alex de la Iglesia

Starring Carlos Areces, Antonio de la Torre and Carolina Bang

Running time: 101 minutes

Rated R for brutal and bloody violence, some strong sexual content, nudity and language

Rating: