RECAP: 'Twilight: Breaking Dawn: Part I,' in just a few words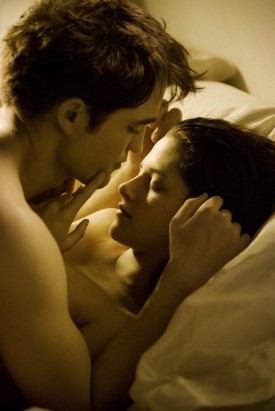 SPOILER ALERT!
Breaking Dawn, the fourth installment of the hugely successful Twilight Saga, cordially invites audience members to the wedding of Bella Swan (Kristen Stewart) and Edward Cullen (Robert Pattinson). Finally, the words "I do" are said and the union between the Lion and the Lamb comes true.
The Girl Who Cried Wolf
Even after getting married to her loving vampire, Bella's heart is still not whole without the best man, or should I say, best wolf. Jacob Black (Taylor Lautner) has returned to Forks to say his final goodbye to the girl he still loves. Jacob is the only one who knows what lies ahead for his Bella. Leaving the wedding on a bad note, he tries to run from the thought of his beloved and what she may soon become.
Isle Esmee
Bella has waited since the night Edward climbed through her window for this moment. After the most perfect night, with a few broken bed banisters, all seems well for the newly wedded couple. But all good must come to an end eventually.
I'm Late
Bella and Edward come to learn the hard way of the importance of being safe. Bella is pregnant. In a state of shock, they manage to catch the next flight back to Forks, Washington. With only myths and tales to guide them, the Cullen family tries to figure out a way to save Bella from giving birth to the half vampire/ half human creature.
Bella, refusing to give up her baby, struggles to hold on for as long as she can. Realizing that her chances of surviving are slim to none, Edward decides he'll do anything to keep Bella from dying, even if it means asking a wolf for some help.
Jacob has come to his wit's end with the Cullen family, after finding out what they have done to Bella. But putting his hate aside for the cold bloodsuckers, Jacob offers to help save the girl. He goes as far as rebelling against his own wolf pack to warn the Cullens that Sam and his pack are coming to destroy Bella's baby and anyone who comes in their way.
When all hope seems lost, Edward goes to comfort Bella. Suddenly he notices a sound. Edward can hear the thoughts of his unborn child. After knowing how much love and care it has for Bella, Edward finally comes to realize that the creature he has resented since the beginning is a pure and innocent baby.
Bella has gone into labor. Accepting the fact that she has a slim chance of surviving, Bella tries to hold on for her baby's sake. Edward and Jacob work fast to both save the baby and Bella. It's a girl.
The baby has come, but Bella's time has run out. Avoiding the situation since the first Twilight, Edward decides the only way to save Bella is to change her.
Until your heart stops beating…
Unable to except the fact that Bella's heart has stopped, Jacob takes a stand to destroy the thing that killed his one and only love. Jacob gets ready to destroy the creature, but he is struck while gazing into the eyes of Renesmee. Jacob has imprinted. Bella and Edward's child has grown to hate and ends up being the one he has been waiting for.
By Marie Amelia / Columnist / Marie@HollywoodSoapbox.com
Twilight: Breaking Dawn Part I

Directed by Bill Condon

Written by Melissa Rosenberg; based on the book by Stephenie Meyer

Starring Robert Pattinson, Kristen Stewart and Taylor Lautner

Running time: 117 minutes

Rated PG-13 for disturbing images, violence, sexuality/partial nudity and some thematic elements.

Rating: