Creation Entertainment plans 3 'Star Trek' conventions for 2012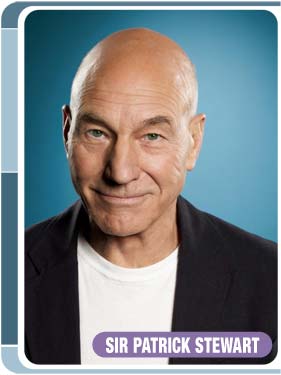 Although its schedule is dominated by Twilight and Supernatural conventions, Creation Entertainment is squeezing in some room for three upcoming Star Trek events. Fans take note: 2012 should be the year of The Next Generation.
On May 4-6, Trekkers in the New Jersey and Philadelphia area will get a rare chance to meet Patrick Stewart, best known for his role as Captain Jean Luc Picard on Star Trek: The Next Generation. The convention appearance marks the 25th anniversary of the famous spinoff series.
Also announced for the three-day event is Jonathan Frakes, Brent Spiner and John de Lancie. Many more guests are likely to be added to the lineup. Check www.creationent.com for the latest information.
The South New Jersey convention will take place at the Crowne Plaza Hotel at 2349 W. Marlton Pike in Cherry Hill. Fans of Monster Mania should know the hotel well, as its the biannual location of the successful horrorthon.
Right now, only Gold Weekend tickets are on sale. For $379, fans can expect reserved seating, admission all three days, autographs from many stars (including Stewart), a pass to the Friday night cocktail party and entrance to the vendors room. Note: Autographs for Spiner, de Lancie and Frakes are not part of this package.
Other weekend and single-day packages will go on sale soon.
Trekkers can also purchase their autographs and photo ops with Stewart at this time. It's probably a good plan to buy early. This iconic actor almost always sells out his ticket allotment. The asking price for an autograph is $75 and $100 for a photo op. The prices are steep, especially since Stewart's last stop in New Jersey at Chiller Theatre only cost fans $60 for a scribble.
Spiner and Frakes will be on hand during the convention to sign autographs for $30. De Lancie will charge $20. Photo ops with each actor costs $40.
Creation will also host its largest event of the year: The annual Star Trek convention in Las Vegas. The company will continue its takeover of the Rio Suites Hotel, located just off the Strip. In 2012, the mega-con will take place Aug. 9-12.
Confirmed guests include: William Shatner, Kate Mulgrew, Frakes, Spiner, Colm Meaney, de Lancie, Michael 'Worf' Dorn, Marina Sirtis, LeVar Burton, John Billingsley, Robert Picardo, Andrew Robinson, Diana Muldaur, Anthony Montgomery, Robert Duncan McNeill, Alice Krige and Aron Eisenberg.
Expect dozens more.
Gold Weekend packages cost $699. But act soon, because the price will rise and these will definitely sell out. The package includes admission, reserved seating, autographs, parties and many more special surprises.
Creation will also roll into San Francisco. Not too many details have been announced yet, except the dates and location: Nov. 16-18 at the Westin St. Francis Hotel.
Here's hoping for a great birthday celebration for TNG (and many more Star Trek conventions to come).
By John Soltes / Publisher / John@HollywoodSoapbox.com
Click here for more information.