'Grand Illusion' is Renoir's masterpiece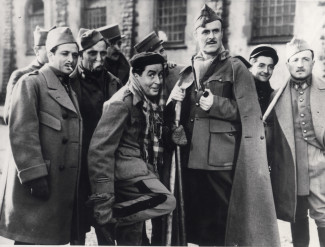 Grand Illusion is Jean Renoir's masterpiece, and its influence can be seen in quite a number of prison escape movies throughout the years. Detailing the difficulties of French soldiers in a German prison during World War I, the movie stands as an allegory on the way Europe used to be, before all the carnage and mayhem.
Jean Gabin plays Lt. Marechal, and Pierre Fresnay plays Capt. de Boeldieu. They are two French soldiers taken in as prisoners near the end of the multi-year conflict. At first, it seems that the two have hit the jackpot of prisons. They are treated with respect by the German officers and offered a generally free life with food and comfort. The guards' one rule is simple enough: Don't escape.
These early scenes of calm behind enemy lines are striking for modern audiences. When one thinks of armed conflict, inevitably death and horrible conditions come to mind. After all, it was the German camp system that would go on to earn a treacherous reputation in World War II. But in Grand Illusion, everything seems so relaxed.
Renoir is tapping into a lost age where conflict was between men of a certain class and temperament. Yes, they have loyalty to their home countries, but they also understand that war makes unfortunate victims out of good men. Every character in the film realizes that there are real humans on the other side of the battle lines. There is also a respect that the French soldiers earn according to their own class. Captain de Boeldieu is given preferential treatment, mostly because he's a captain.
Of course, lack of freedom is lack of freedom, and these soldiers still want out of the prison. So they devise a few plans to escape; one of these plans involves tunneling under the camp all the way beyond the fence. Modern audiences should recognize these scenes from the many movies that have been influenced by Renoir's work. The Great Escape with Steve McQueen is one that certainly takes a lead from Grand Illusion. The Shawshank Redemption seems a child of this great French film as well.
When I saw the soldiers out in the field, enjoying a few rays of sunlight, I was surprised to see them secretly depositing dirt from their tunneling project. That particular scene has been represented in several movies over the years.
Eventually Gabin and Fresnay's characters are shipped out to a different prison, this one under the control of Capt. von Rauffenstein, played by the great character actor Erich von Stroheim. Again, his costume and acting style seems to have left an indelible mark on cinematic history. He has a monocle snugged into his right eye socket and walks around with a strict posture. If audiences think of any German villain over the years (from Young Frankenstein to World War II films), von Stroheim's work seems to have had an influence.
Renoir is a master storyteller, and the Criterion Collection's edition is beautiful. The special features include a restored digital transfer that is breathtaking. This 1938 film feels like a movie made a few years ago. The English subtitles are also nicely written. I appreciated the historical supplements detailing Grand Illusion's rocky history as a banned film.
Do yourself a favor and check out Grand Illusion. It's a classic film that earns such a distinction. Fall in love with Renoir's imagery and his message of war and peace.
By John Soltes / Publisher / John@HollywoodSoapbox.com
Grand Illusion
In French, with English subtitles

Directed by Jean Renoir
Written by Renoir and Charles Spaak
Starring Jean Gabin, Pierre Fresnay, Dita Parlo, Marcel Dalio and Erich von Stroheim
Running time: 114 minutes
Not Rated
Rating:
Revised