'Relatively Speaking' falls flat on Broadway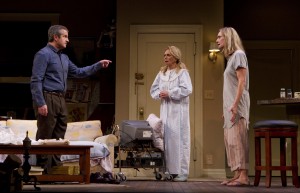 NEW YORK — The new trio of one-act comedies on Broadway certainly boasts a lot of name wattage on the marquee. Playwrights (and accomplished screenwriters) Ethan Coen and Woody Allen are involved, plus the celebrated Elaine May. Taken together, there are many years of award-winning expertise up on that stage.
Then why does Relatively Speaking feel so amateurish? Leaving the two-hour-30-minute performance, one even wonders whether such a production would receive funding if it weren't for the prestigious names of its playwrights.
The opening play, by Coen, is called Talking Cure. It features the barest of plots and fairly uninteresting characters. It almost could be classified a sketch or extended scene, rather than a full-on theatrical effort.
Jason Kravits plays "Doctor," and the rather funny Danny Hoch plays "Patient." The two go head to head in a meeting room as they discuss the inanities of psychotherapy and learn a thing or two about each other's upbringing. The language that is thrown around is nicely written by Coen and features a few wonderfully acid phrases. But after 20 minutes, it becomes clear that any potential depth has fallen out of the piece. These characters are mere constructs to convey some type of hidden message about how our past informs our present.
The final part of Talking Cure features a look in at two characters called "Father" (Allen Lewis Rickman) and "Mother" (Katherine Borowitz). Presumably they are the parents of the "Patient," but the connection is never explored.
The husband and wife bicker and yell at each other across a wide dining room table. As their dinner grows cold, the eyes start rolling and the verbal barbs start flying. Hitler is brought up quite often, and there are a few waves of the hand with a corresponding "Ahhh."
True, the parents are better (and funnier) company than their son, but Talking Cure simply can't get off the ground.
The highlight of the mostly highlight-less night comes with May's piece, George Is Dead, which features a wonderfully hilarious and at times heartbreaking performance by Marlo Thomas.
Carla (Lisa Emery) and Michael (Grant Shaud) are fighting, and it's been a rough night. Carla missed her husband's lecture at Amnesty International, and Michael refuses to come home. Just when it looks like the night will end in lonesomeness, Carla receives a knock at the door.
Enter Doreen (Thomas), an obscenely rich goof with no appreciation or understanding of anyone not frequenting her economic stratosphere. She's arrived at Carla's apartment because, "George is dead!"
Carla, whose mother used to work for Doreen, can't understand why this wealthy lady would seek solace in her tiny apartment. It appears that she simply needs a friend after her husband's death, even a friend who doesn't stock brie cheese and good wine in the kitchen.
Thomas offers a truly masterful portrait of a woman on the edge of losing it. She's so brainless that she can't stop insulting Carla and her meager ways. It's an effective performance in a good play. Unfortunately Coen's lead-in isn't strong, and neither is Allen's finishing piece.
Honeymoon Motel can't be classified as dreadful, but it borders the line between ridiculous and sophomoric. Jerry Spector (Steve Guttenberg) has run off with his son's fiance (Ari Graynor). The two have landed at a cheesy, romantic hotel on the outskirts of Las Vegas, and all they want to do is consummate their desires.
Soon enough the proceedings turn absolutely farcical, with many entrances and exits. A screaming wife barges in. A rabbi stops by. The in-laws pay a visit, as does Jerry's son. Mark Linn-Baker turns up.
It's all meant to poke fun at the inherent craziness of the family structure, but it never elevates beyond pedantic.
Director John Turturro (yes, that John Turturro) tries to enliven each piece with some slapstick humor and high-powered energy. But it would take an Olympic effort to make Relatively Speaking work beyond a few chuckles.
By John Soltes / Publisher / John@HollywoodSoapbox.com
Relatively Speaking


Written by Ethan Coen (Talking Cure), Elaine May (George is Dead) and Woody Allen (Honeymoon Motel)


Directed by John Turturro


Starring Lisa Emery, Marlo Thomas, Jason Kravits, Danny Hoch, Allen Lewis Rickman, Katherine Borowitz, Steve Guttenberg, Ari Graynor, Mark Linn-Baker, Julie Kavner and Caroline Aaron


Playing at the Brooks Atkinson Theatre at 256 W. 47th St. in New York City.


Click here for more information. Tickets start at $55.

Running time: 150 minutes

Rating: