Edgar Wright makes 'Scott Pilgrim' a must-see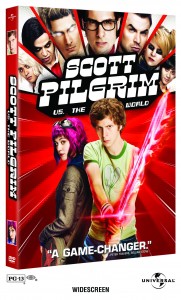 Edgar Wright has achieved the difficult task of adapting for the screen the successful graphic novel Scott Pilgrim vs. The World. Wright, of Hott Fuzz and Shaun of the Dead fame, proves an able director with the off-beat material. It's not the most original movie I've ever seen, but it's a great entry in the growing pantheon of whimsy romantic comedies, joining such modern classics as The Science of Sleep, 500 Days of Summer and Eternal Sunshine of the Spotless Mind.
Michael Cera (Arrested Development, Youth in Revolt) plays his usual Michael Cera role: a slightly nervous young man with a quick, deadpan delivery. We've seen him do this role in Superbad, Youth in Revolt and now Scott Pilgrim vs. The World. I'd like to say he's growing as an actor, but his roles seem to be variations on the same character. Still, what a funny character it is, and it's never difficult to watch him. There is a reason, after all, he's a hot commodity in Hollywood. The character works well in so many situations, especially in a movie like Scott Pilgrim vs. The World.
Twenty-two-year-old Scott Pilgrim is living a normal life in Toronto. It's cold. He lives a semi-quiet life in a basement apartment with his gay roommate and confidant Wallace Wells (Kieran Culkin), even sharing the same bed. One could view moving out of his parents' house as progress, but the apartment is located directly across the street from the house he grew up in. He's the bass player for a band. He has an ex-girlfriend he still misses, and a new 17-year-old girlfriend (Knives Chau, played by Ellen Wong) he's happy to tell everybody about.
The world starts knocking on Scott's mental door in the form of Ramona Flowers (Mary Elizabeth Winstead). He first dreams about this punk-rock beauty, and then he sees her in the flesh. Could she be real? Could she actually be the girl from his dreams?
Soon enough, he confirms her reality, and they start a puppy-dog love affair with uneasy dates and thoughts about whether they said the right thing.
Ramona comes a great deal of baggage. She has seven ex-lovers who vie to battle Scott to the death.
Now, I know what you're saying. Battle? I thought this was a romantic comedy. What about the kissing and the montage sequences?
Diving into its graphic-novel roots, Scott Pilgrim vs. The World is much more than a romance. It's a visual feast for the eyes, as Scott envisions his life like a video game. Every character is first met with a sidebar of information, noting his or her name and age. When Scott does something positive in his life, points are broadcast over his head. Life becomes one big contest and running commentary, and everyone is playing along.
This is where Wright shines as a director, and much credit should be given to the original source material by Bryan Lee O'Malley. The storytelling in Scott Pilgrim vs. The World is anything but linear. It jumps from one place to another, without a scene change. Scott and Ramona could walk down the sidewalk, hook a left and find themselves suddenly indoors. Another left, and they are back outside. Doors open to new worlds, and time is both expanded and collapsed. There's even a Seinfeld comedy-sketch sequence that is hilarious.
It is the direction and clever writing of this movie (Wright wrote the script with Michael Bacall) that truly make Scott Pilgrim vs. The World a must-see. You've seen the premise of a twentysomething romance before, and the acting is hilarious and serviceable. But it's the look and feel of the film that must be enjoyed and experienced.
By John Soltes / Publisher / John@HollywoodSoapbox.com
Scott Pilgrim vs. The World

Directed by Edgar Wright

Written by Wright and Michael Bacall; based on the graphic novels by Bryan Lee O'Malley

Starring Michael Cera, Kieran Culkin, Mary Elizabeth Winstead and Ellen Wong

Running time: 112 minutes

Rated PG-13 for stylized violence, sexual content, language and drug references
Rating:
Revised