'TRUE BLOOD' REVIEW: Season Four, Episode Seven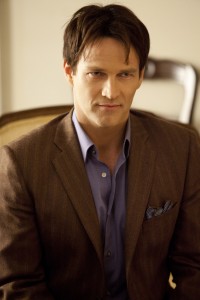 Review of "Cold Grey Light of Dawn" (04:07)
SPOILER ALERT!
It's getting hot in here…
Finally after seasons of waiting and numerous times trying, Eric Northman (Alexander Skarsgård) finally sweeps Sookie Stackhouse (Anna Paquin) off her feet.
In "Cold Grey Light of Dawn," Eric admits he has strong feelings for Sookie, but wonders will this romance go on or come to an end after his witch's spell is finally broken.
If the spell is broken, will Eric himself remember his first time with Sookie? Eric doesn't want to take that chance, and he is willing to sacrifice 1,000 years worth of memories to be with the Bon Temps waitress.
Marnie (Fiona Shaw) has left the building. Her body has been possessed by a spirit that's been waiting for 400 years to face off with the vamps. The spirit is determined to wipe out every vampire she possibly can, and to do that, she pulls out her most powerful weapon: sunlight.
After nearly being assassinated, King Bill Compton (Stephen Moyer) realizes he is not dealing with an ordinary witch. So it comes down to making a most unpopular decision to save the vamp community of Louisana.
Bill has all of the vampires under his reign "silver" themselves in the darkness, so when the witch's spell drives them to the sunlight, they are locked in place. Sookie helps "silver" Eric, while Jessica (Deborah Ann Woll) takes a spot next to Bill, her maker.
In other Bon Temps news, Pam (Kristin Bauer) holds off from killing Tara (Rutina Wesley) and her girlfriend, because a crowd of people in Merlotte's parking lot shows up with cameras. Looks like Tara will live to see another day.
Realizing the power of her second chance, Tara rounds up a group of anti-vampire friends, including Holly (Lauren Bowles), to team up with Marnie (now possessed by Antonia).
To try and disguise her rotting skin, Pam undergoes a new treatment that makes her look like a fish.
Alcide (Joe Manganiello) and Debbie (Brit Morgan) join up with the local werewolf pack, even though Alcide still has some deep reservations.
Sam (Sam Trammell) finds out about his brother's shape-shifting and throws him out of his life (again).
The surprising climax of the episode is Jessica's untimely encounter with the sun. The silver is unable to hold the young vampire in Bill's basement, so after escaping, she opens up the front door and is flooded by the light.
Is she eternally gone? We'll have to see.
In a season that many believe to be mediocre, "Cold Grey Light of Dawn" is a strong entry. Besides the gratuitous sex, there's some nice character development and the role of Marnie/Antonia finally comes into focus.
It has taken a long time for the witches to rise to the level of the vampires, but it looks like the rest of the season will be a cutthroat battle between the two entities.
Who will win? Will there be many victims?
By Marie Amelia / TV Columnist /
Marie@HollywoodSoapbox.com
True Blood

HBO, Sundays at 9 p.m.

Created by Alan Ball, based on the books by Charlaine Harris

Starring Anna Paquin, Stephen Moyer, Sam Trammell, Ryan Kwanten, Rutina Wesley, Chris Bauer, Nelsan Ellis, Jim Parrack, Carrie Preston, Alexander Skarsgård, Todd Lowe, Fiona Shaw, Brit Morgan, Joe Manganiello, Deborah Ann Woll and Kristin Bauer

Rating:


Click here to purchase True Blood Season One on DVD.

Click here to purchase True Blood Season Two on DVD.

Click here to purchase True Blood Season Three on DVD.

Click here for more information on True Blood.