'BREAKING BAD' REVIEW: Season One, Episode One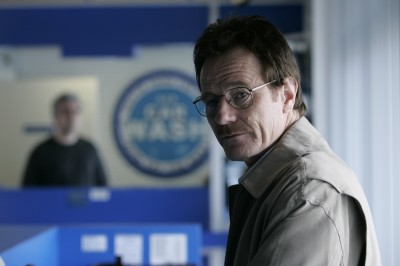 Review of "Pilot" (01:01)
SPOILER ALERT!
Breaking Bad, from the very first moments of its very first episode, is one of the best dramas on television. The acting from Bryan Cranston and Aaron Paul, playing a pair of unlikely crystal-meth cookers, is bordering on perfect. Their performances ooze with a depraved reality. It's actually a marvel to behold, and yet painful to watch.
The writing and direction of the pilot episode is cinematic. A pair of pants falls onto the camera. A man with a gas mask drives a Winnebago crazily through the desert outside Albuquerque, New Mexico. Police sirens can be heard in the distance. Walter White (Cranston) stands before a video camera and records his last few words to his son, Walt Jr. (RJ Mitte), and wife, Skyler (Anna Gunn). He's wearing underwear and has nowhere to put his gun.
What a perfect opening scene, infused with energy and a grittiness that defines the rest of the episode. This is the definition of in medias res.
To learn how Walt has come to this sorry scene, we travel back three weeks. It turns out our anti-hero is a high school chemistry teacher. He's generally gliding along in life without too many bumps. He needs to work a second job at the local car wash. His wife is pregnant with their second child. His son gets teased on at school for his physical disability.
But for the most part, everything is suburban monotony.
And then Walt begins to cough and cough and cough. The doctor tells him matter-of-factly that he has inoperable lung cancer. The news is shocking, if for no other reason than Walt doesn't smoke and never has. But when the doctor tells Walt of his diagnosis, all he can focus on is a spot of mustard on the doctor's tie. He's out of it and unwilling to share the grim development with his family.
As he learns of his imminent mortality, Walt also decides to take his brother-in-law (Dean Norris) up on a chance to go for a ride along with the locally-based Drug Enforcement Agency. A stakeout at a nearby house opens Walt's eyes to a world he never imagined: Wait a second, I'm a chemistry teacher, and chemistry is needed to cook crystal-meth. Me thinks I have an idea!
Walt realizes that the one person who escapes the DEA stakeout is Jesse Pinkman (Paul), a former student of his at the high school. Making the connection, Walt confronts him with his new plans.
"You know the business, and I know the chemistry."
Pinkman wants more information. Why is his former teacher so interested in suddenly cooking crystal-meth? Walt simply says, "I am awake."
We eventually come around to our prologue where Walt is in his underwear in a gas mask, and the police are on his tail. Their first batch of the addictive drug has dire consequences that may end Walt's drug-making career even before it officially began.
Breaking Bad's pilot is exquisite, setting the bar extremely high for cable television drama. Somewhat surprisingly, there's a fair amount of profanity, drug use (duh!), violence and even some nudity. Creator Vince Gilligan is not interested in spinning an aww-shucks "man with cancer" story where every episode ends with an emotional catharsis. Walt is much more uncompromising, much more fragile and much more human. And that's why Breaking Bad works so well: Its central selling point is fascinating to watch.
AMC has grown up as a network, and Breaking Bad is its depraved, dangerous, diabolical and dynamite stepson.
Is it too punnish to say I'm hooked?
By John Soltes / Publisher / John@HollywoodSoapbox.com
Breaking Bad

AMC

Created by Vince Gilligan

Starring Bryan Cranston, Anna Gunn, Aaron Paul, Dean Norris and RJ Mitte

Rating:

Click here to purchase Breaking Bad: Season One on DVD.