Six hilarious performances anchor 'Horrible Bosses'
In a summer movie season where raunchy comedies have either been excellent (Bridesmaids) or awful (The Hangover Part II), Horrible Bosses finds the middle ground with a funny concept, several hilarious scenes and excellent actors doing their hardest to earn a laugh.
Nick (Jason Bateman), Dale (Charlie Day) and Kurt (Jason Sudeikis) are fed-up with their present work predicaments. Nick can't seem to get his well-earned promotion to the executive level. Instead, he's kept on a never-ending horizontal trajectory by Dave Harken (Kevin Spacey), the president of the company who decides to assume other titles so Nick evades his climb up the corporate ladder.
Dale works for Dr. Julia Harris (Jennifer Aniston, playing against type), a dentist with a proclivity for extreme sexual harassment in the workplace. For the newly engaged Dale, Julia's uncomfortable advances prove to be difficult to evade.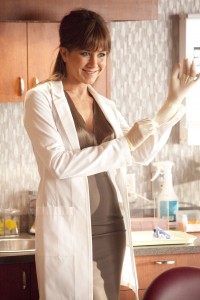 Kurt is the everyman at his company. He's loved by his boss, Jack (Donald Sutherland), and looks to be the guy who will run the business one day. Then everything goes wrong: Jack drops dead, and his cocaine-addicted son, Bobby (Colin Farrell), takes over the reins. How bad is Bobby as a boss? One of his first actions is to fire the "fat" people in the office.
Meeting over drinks at the local bar, Nick, Kurt and Dale decide to try the unthinkable: Why don't they kill their bosses like that Alfred Hitchcock movie, Strangers on a Train? What first starts as a joke becomes a reality when the trio hires the services of Dean 'MF' Jones (Jamie Foxx), a professional hitman who offers the boys some advice.
Their eventual plan to kill their bosses obviously takes many unexpected turns, and the resulting debacles are priceless.
What makes the movie work so well is that the concept is mostly original and the performances are hysterically excessive. Yes, there is much to appreciate from the three leads, especially Day who has a unique way with delivering his one-liners. Bateman is also his usual excellent self.
But the movie is largely owned by the three actors playing their respective bosses. Spacey is malicious and suave, doling out orders with no thought of the repercussions. Farrell is a crazed bagful of ticks and awkward statements. Aniston is lustful and earns the movie its R rating with highly offensive language.
With lesser actors, Horrible Bosses probably wouldn't fly as well as it does. Thankfully, these six comedic performances are spot-on and the actors have a field day with their roles.
Kudos to writers Michael Markowitz, John Francis Daley and Jonathan Goldstein, plus director Seth Gordon. However, their efforts are overshadowed by the six people who bring Horrible Bosses from mediocrity to solid heights.
By John Soltes / Publisher / John@HollywoodSoapbox.com
Horrible Bosses

Directed by Seth Gordon

Written by Michael Markowitz, John Francis Daley and Jonathan Goldstein

Starring Jason Bateman, Charlie Day, Jason Sudeikis, Kevin Spacey, Jamie Foxx, Colin Farrell and Jennifer Aniston

Running time: 98 minutes

Rated R for crude and sexual content, pervasive language and some drug material

Rating:

Click here to purchase Horrible Bosses on DVD.