'TRUE BLOOD' RECAP: Season Four, Episode Four
Review of "I'm Alive and On Fire" (04:04)
Eric Northman ( (Alexander Skarsgård) has had one too many shots of fairy blood. After drinking Claudine dry, Eric goes missing and dawn is soon approaching.
Sookie Stackhouse (Anna Paquin) goes to Alcide Herveaux (Joe Manganiello), the werewolf, for some assistance. Sookie and Alcide finally find Eric swimming around in the swamp nearby. Sookie pleads with Eric to come home, but he won't give up the sun until he notices he has come down with a serious case of sunburn. Eric realizes that he will never again enjoy the warmth of the sun on his skin.
Not knowing what to do, Sookie asks Eric how she can make him happy. Eric comes up with a solution. One little kiss.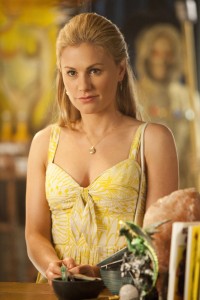 If Bill Compton (Stephen Moyer) did not  show up at the door that very second, would the kiss have happened? Will we see any sparks fly between Sookie and Eric?
Jason Stackhouse (Ryan Kwanten) is near his end after being held captive in Hotshot for days. He finally is set free, but the kitties are close behind him. Jason knows if they catch him he'll go right back to being the Hotshot boy toy. He makes sure that won't happen, going as far as killing off Felton, the werepanther that held him captive.
In Jason's mind, Hotshot is in his rear-view mirror for good. Or is it?
Lafayette (Nelsan Ellis), Jesus (Kevin Alejandro) and Tara (Rutina Wesley) finally convince Marnie (Fiona Shaw) to reverse the spell on Eric. The problem is she doesn't know how she did it.
Pam's patience (Kristin Bauer) is growing thin. She threatens that she'll kill Marnie if the witch doesn't bring back her maker. But Marnie is gone and the spirit has taken over. Having no sympathy for the walking dead, the spirit gives Pam a permanent facial.
Did Marnie get her wish? Has the spirit taken over for good? If so, what plans does the spirit have for the vamp world?
Sam Merlotte (Sam Trammell) has grown close with the new shifter Luna Garza (Janina Gavankar). But while visiting Luna, Sam finds out more than he wanted to know.
Stay tuned for next week!
By Marie Amelia / TV Columnist /
Marie@HollywoodSoapbox.com
True Blood

HBO, Sundays at 9 p.m.

Created by Alan Ball, based on the books by Charlaine Harris

Starring Anna Paquin, Stephen Moyer, Sam Trammell, Ryan Kwanten, Rutina Wesley, Chris Bauer, Nelsan Ellis, Jim Parrack, Carrie Preston, Alexander Skarsgård, Todd Lowe, Fiona Shaw, Brit Morgan, Joe Manganiello, Deborah Ann Woll and Kristin Bauer

Rating:


Click here to purchase True Blood Season One on DVD.

Click here to purchase True Blood Season Two on DVD.

Click here to purchase True Blood Season Three on DVD.

Click here for more information on True Blood.