'GAME OF THRONES' REVIEW: Season One Finale
SPOILER ALERT!
Game of Thrones, the epic HBO series that premiered this past spring, enthralls audiences for most of its 10-episode first season. The show, based on the novels by George R.R. Martin, never talks down to the audience. It introduces a great number of characters and convoluted plot points, but it never grows stale. Yes, it definitely becomes confusing, but if you let Game of Thrones simply envelop you, it doesn't matter whether you follow along word for word.
The show, created by David Benioff and D.B. Weiss, imagines a new world similar to Middle Earth in The Lord of the Rings. Its visuals are as satisfying as its intricate plot.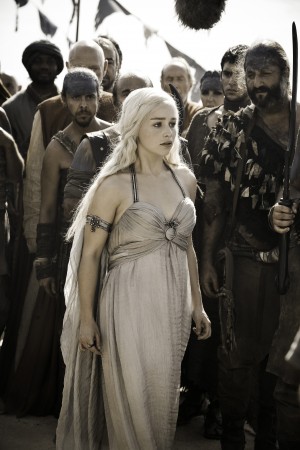 All that said, the season one finale is a letdown. "Fire and Blood" is unusually lacking in action and nothing feels cathartic or resolved. There are a few cliffhangers, but everything sort of wallows in exposition.
Emilia Clarke's character of Daenerys Targaryen probably sees the most growth and her dragon origins are finally revealed. Her fiery climax, after she's dispensed of Khal Drogo (Jason Momoa), proves to be the big cliffhanger of season one.
Of course, Sean Bean's Ed Stark is long gone, but the consequences of his execution are still felt. His daughter, Sansa (Sophie Turner) adjusts to her new regal life under the rule of King Joffrey Baratheon (Jack Gleeson), one of the people responsible for Ed's death.
Meanwhile, Jon Snow (Kit Haringrton), Ed's bastard son, decides to leave the Night's Watch and wage war against the Lannisters. It takes some convincing from his fellow guardsmen to stay put and stay true to his vows.
All of this might be natural progression for these characters, but it just doesn't hold together for a season finale. There are no fireworks and much of the episode is bogged down by excessive exposition.
The acting is all fine, but the choice to go mellow with the finale proves too unsatisfying. Here's hoping for a strong start to the second season.
By John Soltes / Publisher / John@HollywoodSoapbox.com
Game of Thrones

HBO

Created by David Benioff and D.B. Weiss, based on a series of books by George R.R. Martin

Starring Emilia Clarke, Sophie Turner, Peter Dinklage and Kit Harington


Bubble score: 2.5 out of 4

Click here for more information.