INTERVIEW: Tony winner Levi Kreis joins benefit concert for HIV/AIDS and hunger programs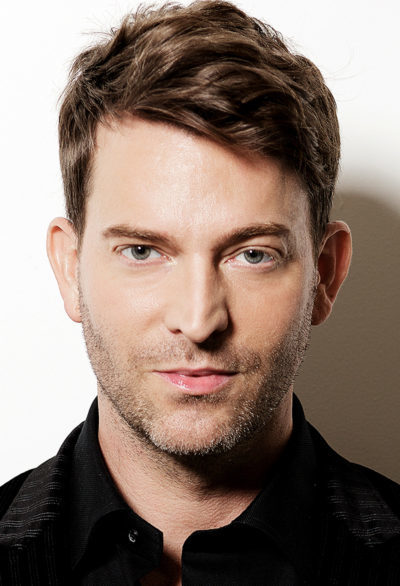 On Sunday, Aug. 20, help will be on the way in the San Francisco area. That's the night of the 23rd annual Help Is on the Way gala benefit to raise money and awareness for HIV/AIDS and hunger programs in the local area. The concert at the Herbst Theatre, featuring top-of-the-line entertainment, will see funds going to Meals on Wheels of San Francisco and the Positive Resource Center.
Expected to perform is a variety of singers and musicians, including Tony Award winner Levi Kreis, Trent Harmon, Jessica Sanchez, Maureen McGovern, David Burnham, Lisa Vroman, Carole Cook, Garrett Clayton, Maddie Baillio, Paula West, Jason Brock, Lisa Viggiano and Eileen and Leah Bourgade.
Kreis won his Tony Award for the musical Million Dollar Quartet. His unforgettable performance as Jerry Lee Lewis entertained audiences at the Nederlander Theatre, and he continues touring around the country with his own material. When he's not on the road, he's sometimes able to return to Broadway, like when he joined Sutton Foster in Violet at the Roundabout Theatre Company's American Airlines Theatre.
His piano playing is the stuff of legend, and his singing capabilities produce a sound both deeply personal and overflowing with energy. His latest album is Broadway at the Keys.
Recently, Hollywood Soapbox exchanged emails with Kreis about his life, his career and his upcoming performance at the Help Is on the Way benefit. Questions and answers have been slightly edited for style.
When did you realize the piano would be your instrument of choice? Have you played it since you were a child?
I came home from my kindergarten graduation after hearing Pomp and Circumstance, playing by ear with both hands and having my brother work the pedals because my legs weren't long enough. I was 6 years old. I began composing classical music shortly thereafter, which garnered a full scholarship for classical piano to Vanderbilt University. My family was a bit disheartened when my acting career started in 2001, thinking the years of musicianship would be left behind. It was nice to have the opportunity to originate a role that allowed me to utilize that ability again.
Who were some of your early influences? I take it Jerry Lee Lewis' music and stage presence eventually became known to you.
I had many of the same influences as Jerry Lee did growing up — good southern gospel music. While being familiar with his music was extremely helpful — playing 'Great Balls Of Fire' was an old family reunion party trick — it was diving into the essence of him from a character development standpoint that provided the richest journey for me. While Million Dollar Quartet has devolved to something more akin to a tribute/impersonation show these days, I always like to remind people that it was nominated for a Tony Award for Best Book. In its more integral state, there is a lovely journey there with rich relationships to explore onstage.
Do you look back with fondness at your time in Million Dollar Quartet? What was it like to be in such a successful musical and win the Tony Award?
I'm not a very nostalgic guy about career stuff. I seem to keep my gaze directly in front of me, but this show was family to me at a time when I needed it most. The personal relationships off stage were the ones that mattered most for me. Shows come and go. Jobs change. Cast members get close quick and never speak again after closing night. This was different.
When audience members purchase a ticket to one of your concerts, what can they expect? Do you change the show often?
I am currently touring my most recent album Broadway At The Keys and will be performing my tour the night following our benefit. Very excited to share my re-imaginings of these great classics. My favorite moment of the night is talking with the audience one-on-one afterwards and hear them say 'I had no idea!' No idea that they've heard my original music as a singer/songwriter featured on their favorite prime time television shows. No idea the other stage and film roles I've done. No idea the very unconventional road to stardom I've had. I'm still educating the world on what I do, and it's a lot of fun.
My story is a rather colorful one. I've been through a mound of obstacles, and they make for some great humor. I've always believed that being completely transparent about my life experiences was not, say, very high-brow of me, but the connection made with my audience is so much deeper for it. Because we all share the same core human experience, though our lives may play out differently. It's definitely a real life conversation — lots of laughs … and a few healing tears.
Why is it important to support Meals on Wheels of San Francisco and Positive Resource Center? What motivated you to join the gala's list of performers?
I've seen firsthand how organizations like these lift up people in their most devastating moments in life  I don't think you can know this personally and not be moved to support all the love and hard work they put into it. I'm more than happy to shine a light on these angels.
By John Soltes / Publisher / John@HollywoodSoapbox.com
Levi Kreis will sing as part of Help Is on the Way 23 — Puttin' on the Glitz. The benefit for Meals on Wheels of San Francisco and the Positive Resource Center will take place Sunday, Aug. 20 at the Herbst Theatre and Green Room in San Francisco. Click here for more information and tickets. Click here for more information on Levi Kreis.