INTERVIEW: FatsO heads from Colombia to United States for first tour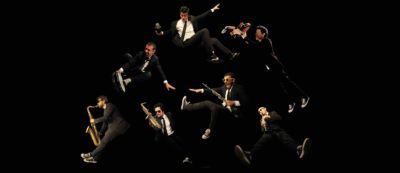 FatsO, the band based out of Bogota, Colombia, have a special summer planned for audience members in the United States. The blues-rock group is currently touring the country for the first time ever. They recently played the San Francisco Jazz Festival and have dates at The Mint in Los Angeles (Aug. 1), Telluride Jazz Festival in Colorado (Aug. 4-5) and San Jose Jazz Festival in California (Aug. 12).
At the center of the band is Daniel Restrepo, billed as a singer with a bluesy voice with rock nuances. Restrepo and the group will perform songs off their last album, On Tape, plus some selections from their forthcoming studio effort, which will be released in early 2018.
"It's been pretty cool," Restrepo said in a recent phone interview. "Yeah, we're all very happy to be here. This is the first time we're actually in a country where everyone understands lyrics of the music, so it's pretty cool."
Here's how they organized the U.S. tour: FatsO had been touring in Europe and eventually landed at the Jazzahead music business fair in Germany. It was at this event that the band met some promoters for the San Francisco Jazz Festival. It took some time after making this initial connection, but Restrepo and company eventually booked a date for California and built a tour around the festival appearance.
On the tour, FatsO will play to large festival crowds and also an intimate audience at The Mint. Restrepo enjoys both types of venues.
"We all have a kind of rock background, so when it's a bigger venue, you tend to play a little bit louder," he said. "So since we're used to that kind of sound, we kind of transform the music toward that. The music is definitely a little bit more subtle, so the smaller venues we get to do a whole bunch of details and arrangements. But energy-wise, it's pretty much the same. They change. One is a little more euphoric, and the other one is a little calmer. But you still get the same energy of the band."
Since Restrepo was a child, he wanted to pursue a career in music. His father loved music and always collected vinyl records, so the young Restrepo had good experiences listening to some of the best musicians in the business, including many from the international scene. This early devotion imbued in him a lifelong dedication to instruments, lyrics and musical notes.
"It's always what I ever wanted to do, so being able to do it is awesome," he said. "Let's say my first vocal influence was Joe Cocker and Sting, a lot of reggae when I was growing up as a kid. So, yeah, that's mostly what I would say is blues and rock. … Rolling Stones, and Pink Floyd, and [Led] Zeppelin and all this is what I learned growing up."
Today's music scene in Bogota is growing, Restrepo said. There are still problems, including a lack of venues and some music halls closing down too quickly, but the bands are there and hungry to play their music.
"Big bands grow out of nowhere," he said. "They give it their all. We have a very big growing world music scene obviously. … The amount of albums that have been produced and the amount of bands that are touring, it's really cool what's going on. … Every country has a moment where their music has been exploited and exploded, and this is kind of the moment that is happening for us. So it's really cool, and I think it's going to go bigger."
The name for the band comes from the upright bass. The story goes that Restrepo has only played the electric bass, but he always wanted to shift over to the upright. FatsO, which Restrepo said is a term meant to be endearing, is a reference to the upright bass. "All of the music is inspired by the playing and how the bass sounds and makes you feel," he said.
Restrepo might be bringing FatsO to the U.S. for the first time, but he's actually well acquainted with the country. He actually lived in the States from the age of 4 to 9. The band's guitarist has also visited before. Two other bandmates though are stepping on U.S. soil for the first time. "So they're really enthused and looking everywhere [with a] kind of obvious tourist attitude, which is really cool," he said.
By John Soltes / Publisher / John@HollywoodSoapbox.com
FatsO will play select dates in the U.S. in the coming days. Click here for more information.