INTERVIEW: J.J. Kandel holds 'Wedding Bash' at this year's Summer Shorts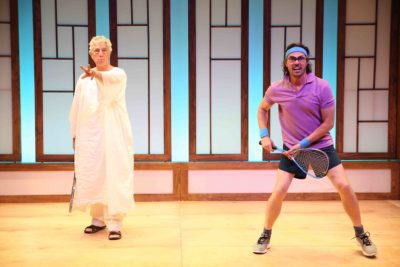 The man behind 59E59's Summer Shorts festival is J.J. Kandel, and this year he's pulling double duty. Not only is he the president and producing artistic director of Throughline Artists, the company that stages the short-play festival every year, but this summer he's also directing one of the featured plays, namely Wedding Bash by Lindsey Kraft and Andrew Leeds.
The Summer Shorts festival is split into two full-length evenings, each featuring three short plays. This year, Series A is comprised of Acolyte by Graham Moore, Jack by Melissa Ross and Playing God by Alan Zweibel. Series B has A Woman by Chris Cragin-Day, Breaking Point by fest favorite Neil LaBute and the aforementioned Wedding Bash.
Kandel and his team at Throughline solicit plays through an open submission process, and that means a lot of reading and difficult choices.
"We start to take submissions, I'd say, in November," Kandel said in a recent phone interview. "That's when the portal opens up. People can start sending scripts. I have a team of three artistic associates, and they help to curate. They're all full-time professionals in the theater. One is a casting director who also casts the festival. The other is a literary manager down at the Public … and then I have the associate artistic director from Labyrinth Theater that also helps. So they're full-time people in the theater."
They accept the plays, read them, take notes and make the final decisions.
"We discuss maybe certain playwrights that we'd be interested in, and playwrights that make it on that list, we can reach out to and see if they would like to write something more like a commission situation, sort of like an offer," Kandel said. "So that's happening year round, and then, of course, there's always fundraising. There's always those things that no one likes to do, but you have to do to get it done. So I'm dealing with that stuff year round and kind of keeping the company healthy, making sure we have the funds raised to do the festival every year."
When programming the festival, Kandel and his team are constantly thinking about balancing the evening with comedies and dramas. He's also cognizant of the total running time. It's summertime, after all, and Kandel doesn't want the theatergoers spending more than 90 minutes at 59E59 Theaters.
"It's three plays per evening, so I don't want to keep the audience there too long," he said. "It's summertime. Attention spans are what they are. The festival is called Summer Shorts, so I try not to keep them there for three hours. If it was winter and cold outside, maybe you'd get a little bit more time, but this is summer. So I want to get them in and out. I try not to do an intermission, so that informs the programming in a big way. So you want to lead the audience through an experience, and you want to have it balanced. You don't want to have all heavy dramas."
He added: "You kind of need to break it up. You've got to have the good opener. You can have something sort of down the middle, and then maybe you want the finisher, the big closing piece that kind of leaves them thinking or just having such a great time, going 'Wow, what was that,' or coming out and talking to their friends that they just experienced this with. So, yeah, definitely balanced, definitely mix it up. I would never want to have three plays of say two characters on benches talking to each other. That wouldn't be very dynamic, so that's certainly part of the programming consideration."
Kandel's directorial efforts on Wedding Bash will be the second time he has stepped into the director's chair for Summer Shorts. The first time was a few years ago for In This, Our Time by Alexander Dinelaris.
"Wedding Bash is funny," he said. "I read Wedding Bash, and honestly I was laughing out loud. And I thought to myself, this would be a great way to spend my summer. That was literally the thought. I thought, you know, I'd love to direct this play. It's a lot of fun. I think it will work really well in the festival, and there you go. Who doesn't want to spend more of their time laughing and having fun? So that was the decision. It was pretty simple. It made me laugh."
One of the top collaborators for the Summer Shorts festival is LaBute, a playwright who has been represented on Broadway and also a filmmaker with several acclaimed movies to his name. This year, LaBute offers Break Point about two world-class tennis players who meet on the eve of their semi-final matchup at the French Open.
"Neil is fantastic," Kandel said. "I love working with Neil. He's just so prolific. The festival will close. It'll be September, and he may send a play potentially for next year. Then he'll send another. Then he'll send another, so Neil writes all the time. And he's so good. He's a great writer, and he's easy to work with. So it makes it a good partnership, and I think this is probably his ninth year doing a play in the festival. … He's been a great partner. He's a team player. He's talented, and he has a good sense of humor. And he's easy to be around. He attracts other talent and all that stuff, and sells tickets, which is also nice."
By John Soltes / Publisher / John@HollywoodSoapbox.com
Summer Shorts, both Series A and Series B, is currently playing at 59E59 Theaters in Midtown Manhattan. Click here for more information and tickets.