REVIEW: 'False Confessions,' starring Isabelle Huppert, is final feature from Luc Bondy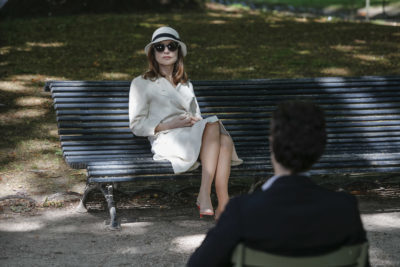 Luc Bondy's final film is False Confessions, a comedy starring Isabelle Huppert (Elle) and Louis Garrel (The Dreamers). Based on Pierre de Marivaux's 1737 play, the film has a certain charm and funny farcical element, especially when considering the servants in the household. However, much of the plot is too convoluted to understand, let alone enjoy.
Huppert plays Araminte, a widow who whiles away the days doing tai chi on the balcony of her palatial estate. She lives there with her domineering mother (Bulle Ogier) and manservant Dubois (Yves Jacques).
Unfortunately all is not well with the family. They are involved in a land dispute that has caused an ultimatum to be issued: Either Araminte weds the Count at the center of the legal debacle (Jean-Pierre Malo), or she must face him in court. Her mother says marry, but she some serious reservations.
Complicating the humorous melee is the new arrival of Dorante (Garrel), a young, handsome man posing as an accountant for Araminte. What she doesn't know is that Dorante is scheming with Dubois; they're all presumably after Araminte's money, but motive doesn't play a large part of False Confessions.
The laughs are enjoyable, and Huppert is certainly one of those actresses who could read the phone book and still find a laugh or critical plaudit. However, her individual successes don't add up to much. That is largely because of the adaptation. Bondy and co-screenwriter Geoffrey Layton make the plot so confusing and talky that it becomes easy to tune out the details, and then the audience is left asking: Wait, who is that again? Does she know? What's his background again?
The brain shouldn't work this hard in a 85-minute comedy.
There's definitely some fun in the farcical proceedings, and Bondy makes expert use of the estate and its many decorative rooms. But a little more farce, and a little less talking, would have helped elevate the movie to a more physical-comedy realm.
The movie was partly shot during the daytime at the Théâtre de l'Odéon, while the same cast performed the story in a theatrical setting at night. That dedication to the material is commendable and deserving of recognition; however, the story itself doesn't match the same heights.
By John Soltes / Publisher / John@HollywoodSoapbox.com
False Confessions (2017), directed by Luc Bondy, stars Isabelle Huppert, Louis Garrel, Bulle Ogier, Yves Jacques, Manon Combes, Bernard Verley, Jean-Pierre Malo and Fred Ulysse. Written by Bondy and Geoffrey Layton; based on the play by Pierre de Marivaux. Running time: 85 minutes. In French with English subtitles. Rating: